[Aesthetics Asia 2014] Zinc Supplements could make Botulinum Toxin Effect Last Longer
Bianca Zen | 6 Nov 2014
Dr Chytra V Anand is a renowned Cosmetic Dermatologist in Bangalore. She is India's answer to Dr. Mehmet Oz, a celebrity doctor in USA. At Aesthetics Asia 2014, she shared that zinc supplements could make a botulinum toxin effect last longer (!)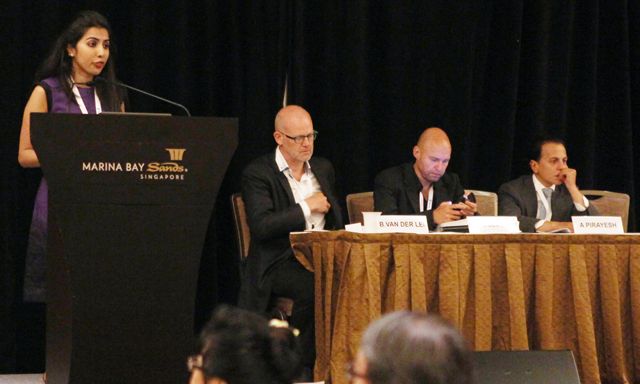 Her clientele in Bangalore comprises of stars from the Bollywood, Kollywood, Tollywood fraternity, fashion models and prominent corporate personalities. Her skill in dealing with Indian skin is well known and her impressive client list comprises of prominent personalities from various walks of life from Fashion, Films, Industrialists to Socialites.
An interesting thing that Dr Chytra V Anand shared with us at Aesthetics Asia 2014 during her talk was that zinc supplements could make a botulinum toxin effect last longer.
This was based on a published study by Dr. Charles Sopokar on patients he was treating with botulinum toxin for blepharospasm.
Blepharospasm is any abnormal contraction or twitch of the eyelid. He treated 44 patients with a zinc and phytase supplement 4 days before the Botox injections and found that 93% of his patients had better and longer improvement when compared to their previous treatments.
Botulinum toxin belongs to a group of enzymes that are zinc dependent and Phytase is a supplement that helps the body absorb zinc. So it does make some sense that a zinc supplement with phytase may help Botox work better.
Based on this research, there is a new prescription supplement on the market that contains zinc and phytase to help Botox work better and last longer. This supplement is supposed to be taken 4 days before and on the day of Botox injection.
I am not sure if you can find an FDA-approved zinc and phytase supplements in Singapore but I wouldn't mind giving it a try.
Dr Chytra V Anand is a graduate of the prestigious Guys & St Thomas' Hospital in London, where she earned her Masters in Dermatology. She underwent further training in Medical Aesthetics & Cosmetic Dermatology in USA under Dr Palmer, one of the pioneers of medical aesthetics in the US. She also holds a fellowship in cosmetic dermatology from USA.
She has been on the expert panel for her talks on Cosmetic Dermatology topics at various conferences and meetings. She has also been a part of Cosmetic Dermatology Programmes on Channel 4, Discovery Health, BBC and other prestigious TV Channels in London.
MyFatPocket and Aesthetics Hub are proud to be, once again, the Media Partner of Aesthetics Asia. This year, is the 1st edition of the Aesthetic and Anti-aging Medicine Asian Congress and Aesthetics Asia 2014 held in September from 25th – 27th at the biggest MICE facility in Singapore renowned Marina Bay Sands Sands Expo and Convention Centre.