Assurance Clinic: Assuring You with Utmost Care with Every Step
Assurance Skin, Laser & Aesthetics | 24 Apr 2015
Assurance Skin, Laser & Aesthetics specialises in the full spectrum of dermatological services for all skin, nail, hair and other aesthetics needs. The clinic not only provides effective treatments but more importantly, it believes in helping patients understand the root of their problems to truly put them on the path to a longer and better well-being. This attribute is apparent and exemplified in its Medical Director, Dr Wong Soon Tee.
Dr Wong is a reputable leading Dermatologist with more than 20 years of experience in treating and managing Medical and Cosmetic dermatological problems. He is also one of the first doctors in Singapore to combine the Obagi Nu-Derm skin care systems and range of products with Laser and IPL treatments for pigmentation removal and skin health restoration.
On the subject of the clinic's name, Dr Wong revealed that the name 'Assurance' was chosen to reflect his personal guarantee of the professional standard and personal care that patients could expect. Being a reputable and highly qualified dermatologist, Dr Wong is arguably the leading expert in all things skin-related. He always advises his patients on the harsh effects of the sun and the importance of prevention against sun damage. He also emphasise that when it comes to treatments; early intervention is key.
Dr Wong is also an expert in Laser treatment technology. He was the first doctor in Singapore to acquire and successfully achieved great results with the Lumenis Acupulse laser machine. His capability in utilising this technology has enabled him to address skin-tightening needs and scar removals issues for many patients. The clinic also offers a host of aesthetic treatments that caters to the varying needs.
Essentially, it's all skin-related which explains the clinic's name - "Assurance Skin, Laser & Aesthetics".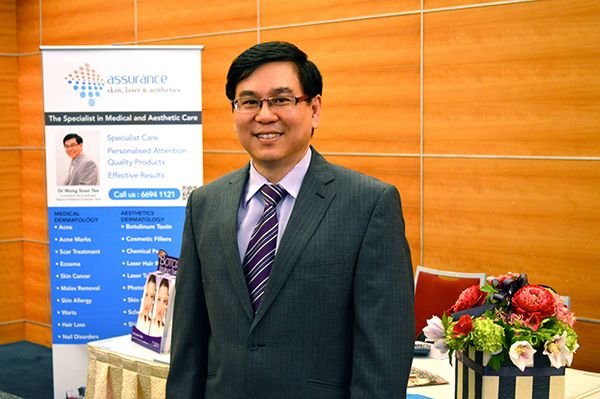 The importance of first impressions can never be over emphasised. After all, a pleasant appearance tends to open doors of opportunities on both social and professional level. In the same breath, creating a long lasting impression is as equally important.
At Assurance Skin, Laser & Aesthetics under the expert hands of Dr Wong, you can be assured of results and more importantly utmost care with each step of your aesthetic wellness journey.
Assurance Skin, Laser & Aesthetics
Mount Elizabeth Novena Specialist Centre
#10-22/23, 38 Irrawaddy Road
Singapore 329563
Opening Hours
Weekdays: 9am to 5pm
Saturdays: 9am to 12.30pm
Sundays & Public Holidays: Closed
Contact
Our Panel of Doctor's Services
Dr. Wong Soon Tee, Assurance Skin, Laser & Aesthetics
Botulinum Toxin (Wrinkles), from $190 onwards
A popular microinjection that reduces or eliminates frown lines, forehead creases, crows' feet near the eyes and thick bands in the neck.
Botulinum toxin (Face Slimming), from $608 onwards
Used for facial reshaping in the case of a square jaw, intra dermal lift to treat sagging skin.
Botulinum Toxin (Eye Area), from $228 onwards
Botulinum toxin relaxes the muscles that cause crows feet, frown lines and forehead lines, reducing wrinkles appearance around the eyes and on the forehead.
Botuinum Toxin (Botox, Dysport & Xeomin), Call to enquire
Botox, Dysport and Xeomin are the 3 most popular brands of botulinum toxin for reducing wrinkles, face slimming and eliminating execessive sweating.
Botulinum Toxin (Excessive Sweating), From $1140 onwards
A no-down time microinjection that reduces or eliminates excessive perspiration with minimal pain or no pain at all.
Mount Elizabeth Novena Specialist Centre #10-22/23, 38 Irrawaddy Road, Singapore 329563