[Blogger Miyake] Laser Skin Rejuvenation for Back Acnes
Astique Clinic | 1 Apr 2015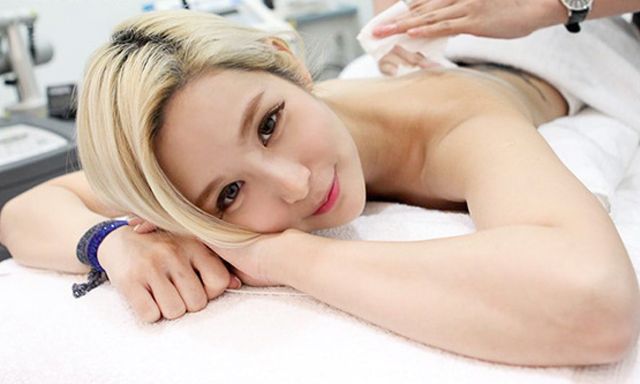 Previously I did laser for my face and I was impressed by the instant effect that make it so radiant with a luminous appearance after the treatment, so this time round I asked Dr. Matthew to save my back too!
As usual a consultation must be conduct first before treatment, speak with Dr. Matthew and ask him for advice on what you should do. As some treatments that you wished to do might not be suitable for you.
I asked him for advice on what can be done to treat it. As I am extra self-conscious about my skin and embarrassed to have anyone to see the acne on my back so I'd wear clothes that wouldn't reveal it...
Dr.Matthew told me there are acne scars and discoloration left behind, after a pimple has healed which is quite common. So he will be doing chemical peel to make it fade away, beside laser skin rejuvenation. But it will take several sessions to completely treat it. Unlike facial acne, back acne can be harder to treat! He also mentioned that there's ways to prevent it or making it worst, which is tie up your hair when you're at home and try to wear loose and comfy clothes that will let your skin breath. Skin breathe more will help your skin to recover faster!
Most commonly asked question question would be "Is it pain?" Laser Skin Rejuvenation is PAINLESS, NOT-PAIN-AT-ALL. It does not affect the outer layers of skin, so there is no downtime or prolonged healing process at all.
THIS IS AN IDEAL TREATMENT FOR THOSE THAT DESIRE TO:
Reduce oiliness of the skin
Shrink pore size
Improve facial laxity and textural problems
Minimise skin discolourations
Reduce visibility of acne scars
Diminish fine lines and creases
Click here to read my first post on Laser Skin Rejuvation!

Astique. The Aesthetic Clinic
350 Orchard Road
#08-00 Shaw House
Singapore 238868
Opening Hours
Mon to Fri: 11 am to 8 pm
Sat: 11 am to 4 pm
Sun and PH: Closed
Tel: 6732 3801 Hp: 9857 7892 Fax: 6235 0966

For bookings & general enquiries: enquiry at astiqueclinic.com.sg
Our Panel of Doctor's Services
DR Celine Leong, Astique Clinic
Acne Treatment Programme, $349
PPx Pore-Cleansing ACNE Treatment™ (PPX) is an advanced technology that combines a gentle vacuum with therapeutic broadband light, to help rid skin of acne-causing impurities, leaving your skin cleaner and clearer. It is combined with laser treatments, chemical peels and blue LED light treatment to bring about more effective results and healthier, clearer, more youthful-looking skin.
CO2 Fractional Laser Skin Resurfacing, $399
Fractional Laser Skin Resurfacing is effective in reducing acne scars.
350 Orchard Road, #08-00 Shaw House, Singapore 238868