CoolSculpting by ZELTIQ - Targeted Slimming & Eliminate Fat without Surgery
Astique Clinic | 5 Dec 2013
CoolSculpting® by ZELTIQ is a breakthrough, non-invasive procedure that uses cooling technology to bring about targeted slimming, and noticeably eliminate fat without surgery. Now first trial at only S$588 at Astique Clinic!
It was developed from research by world-renowned dermatologists Dieter Manstein, MD and R.Rox Anderson, MD of the Wellman Center for Photomedicine at Masschusetts General Hospital, a teaching affiliate of Harvard Medical School. In CoolSculpting®, fat cells are targeted, cooled and then eliminated naturally by the body. The result is noticeable, natural-looking fat reduction in the treated area.
What is the Procedure like?
This revolutionary procedure uses a precisely controlled cooling method called Cryolipolysis™ to target, cool, and eliminate fat cells. No anesthesia is needed. Our doctor will position the device on the area that you wish to have treated. The device will then draw the bulge up between 2 cooling panels. The sensation is a firm pull and pressure – enough of a pull to ensure the selected tissue will be cooled most efficiently.
Procedures last about 1 to 2 hours, so treatment can easily be performed during a lunch hour. Many patients spend their time reading, working on their laptops, listening to music or simply relaxing during the procedure. You can resume daily activities immediately following treatment. Some patients may experience temporary pain or discomfort. Side effects can include redness, bruising, swelling, tenderness to the touch, cramping, itching, tingling, and numbness. Numbness can persist up to several weeks after a procedure.
Over the next 2 to 5 months after your procedure, the crystallised fat cells break down and they are naturally flushed from your body, leaving you with flatter contours.
What can I do to Prepare for the Treatment?
No special preparation is required. However, it is important to note that CoolSculpting® is not a weight-loss solution for people who are obese, or a substitute for surgical methods such as liposuction. Good candidates have noticeable stubborn bulges in certain areas (e.g. arms, thighs, abdomen) that they would like to get rid of. Our doctor will determine if you are suitable for CoolSculpting during consultation.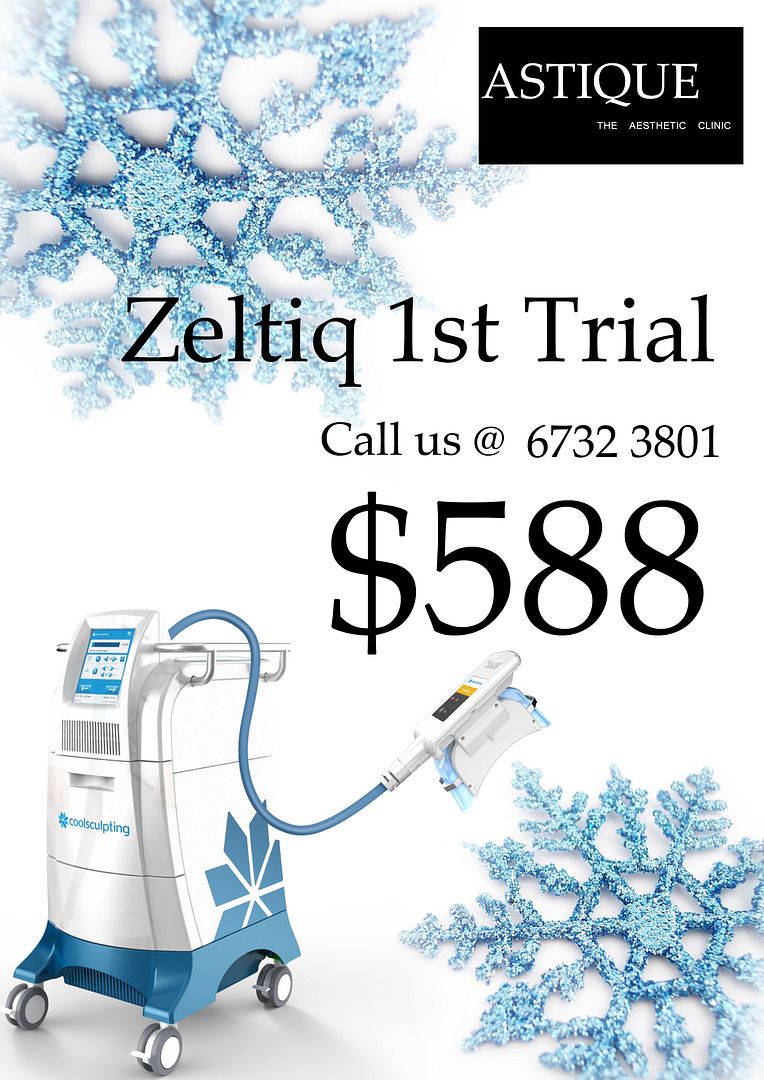 Astique. The Aesthetic Clinic
350 Orchard Road
#08-00 Shaw House
Singapore 238868
Opening Hours
Mon to Fri: 11 am to 8 pm
Sat: 11 am to 4 pm
Sun and PH: Closed
Tel: 6732 3801 Hp: 9857 7892 Fax: 6235 0966
For bookings & general enquiries:
This e-mail address is being protected from spambots. You need JavaScript enabled to view it
Website: Astique Clinic