[Editor's Review] Medifacial Hydrating Facial at EHA Clinic
EHA Clinic | 27 Apr 2015
Being a very busy person can sometimes mean missing out on other things that Life has to offer. Let's be honest, we all have wished for that wee bit of extra time so that we can indulge in activities, hobbies and other things we've missed out on; self-pampering included.
Facials have always been one the favourite pampering indulgences for women and men alike. What's not to like? You'll feel relaxed, rejuvenated and refreshed immediately after a session! On that note, let's retract the term 'indulgence' and substitute it with a 'must-do'. After all, it's good for your skin health as well.
On the subject of 'must-do', the EHA Medifacial Hydrating Facial (Hydrafacial) treatment certainly falls in that category. The Medifacial Intense Hydrating Facial removes dead skin cells and impurities while simultaneously bathing the new skin with cleansing, hydrating and moisturizing serums.
The treatment is a recent breakthrough in aesthetic technology. As it's able to moisturize the skin, the EHA Medifacial Hydrating Facial stands apart from other skin resurfacing procedures. Designed for all skin types; it is soothing, refreshing, and non-irritable. But what makes it very appealing is that results are immediate.
With all these benefits, I couldn't wait to give it a try!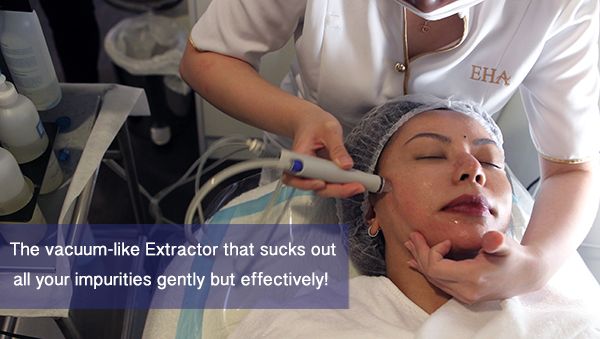 First step is to remove all traces of makeup and then the face is thoroughly cleansed. To ensure that all impurities are removed, EHA Skin Refining Enzyme, which contains active ingredients like Carica Papaya, Zea Mays Starch, Allantoin and Saccharum Lactin is used. Don't be taken aback by all these exotic sounding names - all you have to know is that they cleanse, remove oil build-ups, soothe and promote the healing of damaged skin.
Then it's on to 10 minutes of cold steam or mist to open up the pores followed by a diamond peel and light extraction. For this part of the treatment, a vacuum-like applicator is used to remove all black and white heads on skin surface. I was enjoying this bit, as the applicator is not harsh like the traditional extractor so it wasn't uncomfortable at all. After the extraction is done, a smoothing toner is applied to close all open pores.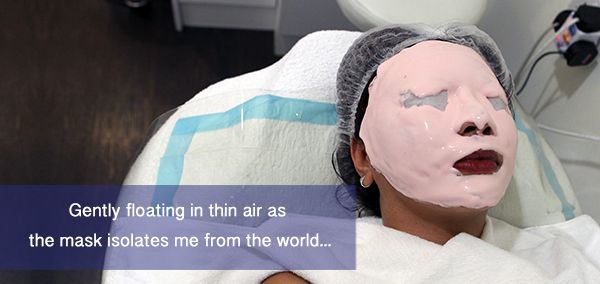 Then it was one of the (personal) highlights of the treatment, the massage! At this point, I felt like I was gently floating in thin air as the massage eased all the tensions away. I felt like I was in the clouds jumping over sheep that didn't needed counting. As the hydrating mask including ones for the eyes were applied, nothing else mattered. But as with all things dreamlike, it had to end.
But it was a welcomed 'awakening' though. The masks were removed and my face was lathered with EHA Clinic's unique skincare formula. These consisted of EHA Soothing Lotion, EHA Moisturising Gel and EHA Sunshield 24hr.
The EHA Soothing Solution helps to maintain skin's pH balance while providing deep hydration. The Moisturising Gel is a lightweight gel-lotion that protects and nourishes skins while EHA Sunshield offers 24 hours protection from harmful UV-A and UV-B rays by up to 90%.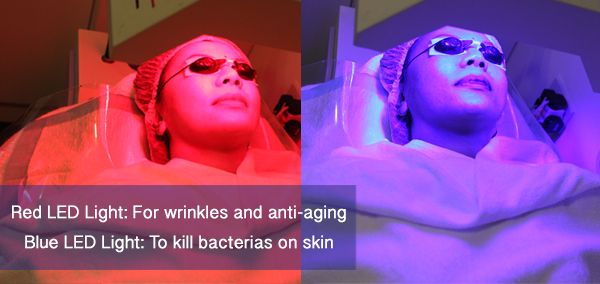 And at the risk of sounding like a baked turkey, I was done! On hindsight, it was more like a work of art and aptly so as well. I felt so rejuvenated, refreshed and clean! I felt like I was ready to start a new 'face' in my life (get it?).
The EHA Medifacial Hydrating Facial treatment was indeed a much needed boost not only for my skin but - and I mean this genuinely – my energy level as well. Who would've thought a facial can do so much and more!
EHA Clinic & Skincare has always been at the forefront when it comes to aesthetic treatments. Led by Dr Elias Tam, who himself is highly regarded amongst patients and peers; the clinic has helped many fulfill and discover their beautiful dreams. The EHA Medifacial Hydrating Facial is just one of the many effective treatments available at the clinic that can just make your aesthetic dreams come true.

1 Scotts Road #15-01 Shaw Centre, Singapore 228208
Tel: 6235 3025 or 8168 7235
Opening Hours
Weekdays: 11am to 9pm
Saturdays: 10am to 8pm
Sundays & Public Holidays: Closed. By Appointment Only