Enerjet: Deep Volumetric Remodelling for Acne Scars
Nu.Reflections Medical Aesthetics | 2 Apr 2015
Nu.Reflection is the pioneer clinic in Singapore to use Enerjet for Deep Volumetric Remodelling - the safe, clinically-proven skin remodeling treatment that reverses the visible signs of aging and acne scarring. Restoring long lasting beauty. Instantly.
Enerjet Deep Volumetric Remodeling is a needle free proprietary technology that simultaneously delivers Kinetic Energy and a Healing Compound enabling a controlled deep injury profile effect for the remodeling of the dermis.
This combined effect of a controlled micro-trauma and a Healing Compound induces dermal regeneration of the skin. Hyaluronic Acid molecules absorb water for rapid skin healing modification and result in an immediate visible improvement.
The long lasting healing process based on the uniqe trauma promotes collagen generation, creating thicker tissue, replacing skin imperfections for long-lasting, healthy aesthetic improvements.
Enerjet technology accurately delivers Kinetic Energy and a Healing Compound, via a small entry point in the epidermis (up to 200 microns). Once reaching the dermis layer, the jet stream disperses the skin enhancing agent. This ensures optimal skin coverage, and maximum efficacy of the treatment in the dermis layer.
The high molecular mass of the skin enhancing agent (HA) is accelerated without any needles, rather by the pneumatic jet stream energy. The particles act as "Nano-Bullets", as they disperse in the dermis, creating a deep volumetric injury effect.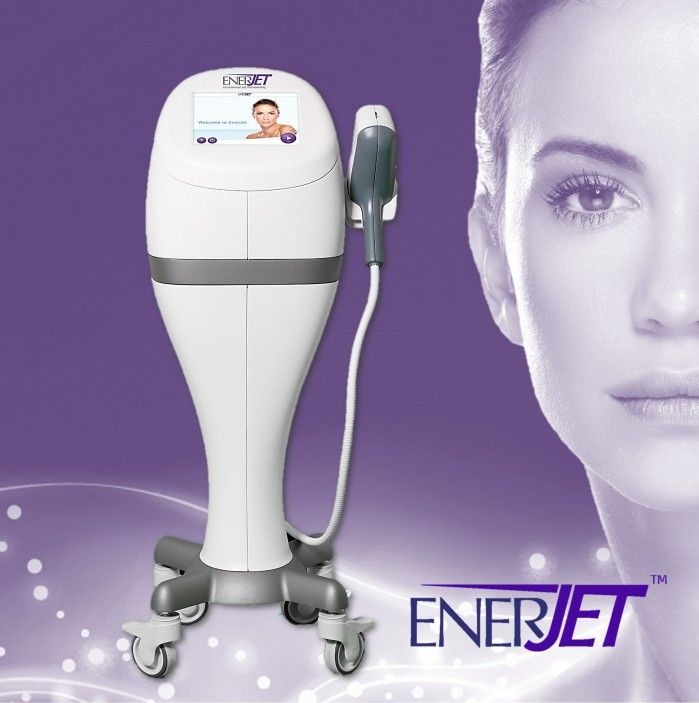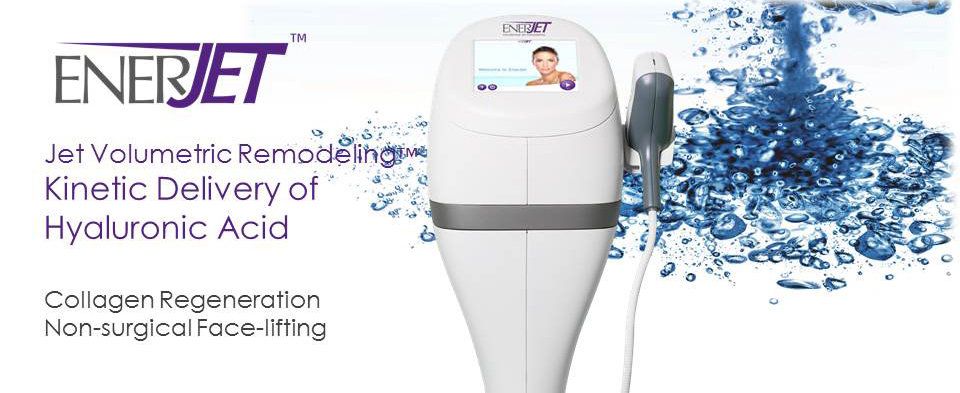 The healing process promotes the formation of new collagen. Skin renewal commences, and improves the skin texture for years to come.
As with all other modalities, long term skin renewal may require several treatments before any visibly effect appears. To overcome the time gap, EnerJet's technology has an outstanding quality of creating an immediate and visible effect, which lasts until the long term skin remodeling healing natural effect takes over.
The skin enhancing agent (HA) dispersed inside the dermis causing both intra cells signaling (CR44) for micro trauma healing effect and attracts and retains water molecules, increasing the local hydration and adds volume to the area. Aesthetic improvement and long term skin remodeling effects are reached within three sessions, with 3-4 weeks apart sessions.
Safety is one of the leading advantages of the EnerJet's JVR technology, as it acts inside the dermis, avoiding damage to the epidermis (entry points up to 200 microns). No needles are required and only the target skin layer is treated.
Another significant advantage is that JVR treats all skin types all year round without any risk of thermal burning.

Enerjet technology offers:
Effective dermal remodeling treatment combining Kinetic Energy and Healing Compound.

Deeper treatment than any other energy-based devices (up to 6mm).

Covers treatment area up to 1,000 times larger than entry point.

Needle free, Safe and Quick – clean treatments, No cross contamination.

Immediate visible and long lasting results.

Hard to treat indications – non-surgical facelift, neck, decolte, hand veins, scar repair including acne stretch marks and keloids
Nu.Reflections Medical Aesthetics
123 Penang Road, Office tower #05-12 Regency House (next to old Cockpit Hotel)
Singapore 238465
Opening Hours
Mon to Fri: 10am to 8pm
Sat: 10am to 5pm
Tel: (65) 6235 5333
Fax: (65) 6235 0330
For bookings & general enquiries:
This e-mail address is being protected from spambots. You need JavaScript enabled to view it
Website:
www.nu-reflections.com
Our Panel of Doctor's Services

Dr Ivan Tan, Nu.Reflections Medical Aesthetics
E-Plus Sublative Skin Renewal, from $1,000 onwards
The E-Plus Sublative Skin Renewal treatment utilises a fractional bipolar radiofrequency technology to treat mild to moderate wrinkles, acne scars, discolouration and tectural irregularities.
EnerJet Acne Scarring Removal, from $1,500 onwards
An effective treatment targetted at stubborn acne scars with the revolutionary pneumatic needle-less sytem.
123 Penang Road, Office tower #05-12 Regency House (next to old Cockpit Hotel), Singapore 238465