Fair Skin Conceals a Thousand Flaws, they say. Choose the Right Sunscreen that does the Job!
Astique Clinic | 19 Aug 2013
The glorious sun is a known source of Vitamin D and there are reports claiming that regular sunlight exposure can naturally increase the serotonin levels in your body, making you more active and alert. But before you head out for a baking session in the sun, lather up on the sunscreen! Remember, the benefits of the sun only come with a degree of safe exposure.
The obvious visible effect of over exposure to the sun is sunburn. Under a strong microscope, the damage on cells and blood vessels can be seen clearly and with repeated exposure, further damage can cause the skin to discolor and wrinkle.
It also leaves a dry and leathery appearance; as in the case of a man whose 28 years of sun exposure as a truck driver left one side of his face (the one more exposed to the sun's ray as he drove) looking much older than his 69-year old self.
This premature aging known as unilateral dermatoheliosis or photoageing, is caused by the sun's UVA rays resulting in thickening and wrinkling of the skin.


UVA rays are responsible for the golden tan look and are the most common form of light rays. UVA rays can penetrate glass such as the trucker's window and are present even on cloudy days.
Although previously believed to be safer than UVB rays, recent research have shown that UVA (as with the case of UVB rays) can cause the most harmful effect of sunlight over exposure; skin cancer.
Using sunscreen would be the most obvious and sensible way of reducing over exposure, however the length that some people resort to, at times border on the absurd.
For legions of middle-class women in China, solar protection is practically a fetish complete with its own gear. A nylon ski-mask is a de rigueur and the beaches of China are filled with women sporting them, in an array of different colours even.
The reason for this sweeping fashion trend -that's an acquired taste for most still- boils down to a culture that prizes a pallid complexion as a traditional sign of beauty perhaps reiterated by the idiom: "Fair skin conceals a thousand flaws."
Living on an island that's lying near the equator makes us more susceptible to the harmful effects of the sun's ray. We are constantly exposed to the sun and even in small doses, the continual exposure can do harm.
As such, sunscreen literally becomes a necessity. More often than not, we only realise the harmful effects of over exposure to the sun much later so early prevention forms the best precautionary step.
Choosing the right sunscreen that does the job and fitting into one's daily need or requirement helps as a preventive measure.


Astique Natural Glow Sunscreen SPF30

The Astique Natural Glow Sunscreen SPF30 is formulated to give skin a healthy 'nude-makeup' look with a soft tint of colour that evens and enhances without hiding the skin.
The product's perfect blend of skin beneficial antioxidant sunscreen delivers a youthful, radiant finish for a healthy and dewy glow.
This lightweight formula provides instant, sheer coverage while evening tone and texture. With a broad spectrum SPF 30 UVB/UVA sunscreen protections capability, the Astique Natural Glow Sunscreen SPF30 protects from the sun's harmful and damaging rays.


Astique Mineral Sunscreen

Combining Nature Earth Protection™ technology (which protects against UV rays on a broader spectrum of 250‐450 nanometers) with an extremely high protection factor of SPF 60 and PA+++, the Astique Mineral Sunscreen assures an all-day effective protection for the skin.
The mild cream leaves an instant light, dry feeling and is suitable on all skin areas, especially around the facial area.
The Astique Mineral Sunscreen contains Zinc oxide and Titanium dioxide, which are the two main ingredients for sun protection. These two ingredients filter out UV A and UV B rays and they are naturally water-resistant.


Jane Iredale Amazing Base SPF20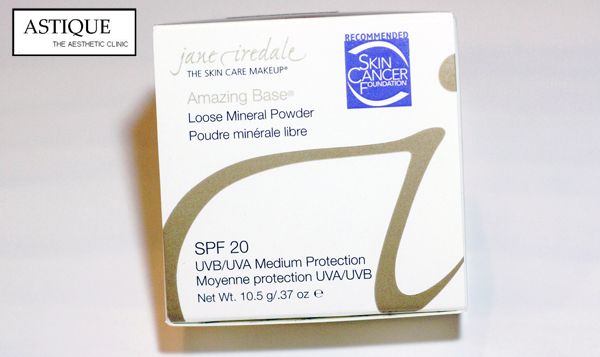 The Jane Iredale Amazing Base Loose Minerals SPF 20 with its Titanium dioxide and Zinc oxide gives the powder its opacity and semi-matte look. They also contribute to its durable capability.
The product enhances the skin's natural radiance with its talc-free smooth texture and buildable coverage. The Jane Iredale Amazing Base Loose Minerals SPF feels light and makes the skin look flawless and fresh for hours.

ASTIQUE, THE AESTHETIC CLINIC is a boutique aesthetic clinic that provides a comprehensive range of medical aesthetic treatments which have minimal or no downtime.
With the knowledge that not all complexions are created equal and the belief that healthy skin starts with effective skin treatment, ASTIQUE offer's solutions with different options. Near-perfection can now be achieved with ASTIQUE 's right combination of skin-enhancing treatments and medical cosmetic products.
Astique. The Aesthetic Clinic
350 Orchard Road
#08-00 Shaw House
Singapore 238868
Opening Hours
Mon to Fri: 11 am to 8 pm
Sat: 11 am to 4 pm
Sun and PH: Closed
Tel: 6732 3801 Hp: 9857 7892 Fax: 6235 0966
For bookings & general enquiries:
This e-mail address is being protected from spambots. You need JavaScript enabled to view it
Website: Astique Clinic