How South Koreans take their Beauty Products Seriously [Video]
Bianca Zen | 29 Jul 2013
With the increase in number of visitors (including medical tourists) each year, it comes as no surprise that Korean beauty products have become much sought after commodities in the skincare market, practically making South Korea a beauty and skincare haven.
Myeongdong: A shopping district for the young and trendy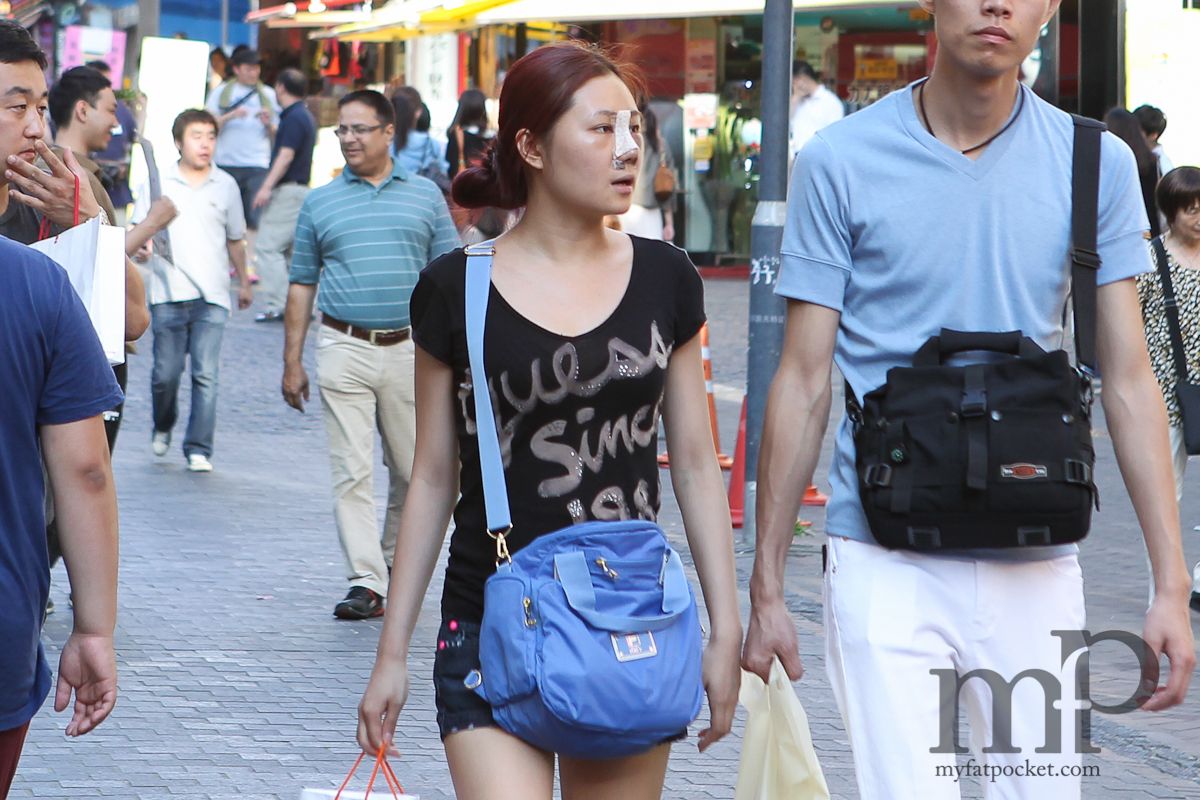 In the 1970s, Myeong-dong became the hotspot for the young and trendy as department stores, shopping centers, restaurants and more made their appearance. Today with the presence of international renown brands like Louis Vuitton, Bulgari and Polo Ralph Lauren to name a few, Myeong-dong's reputation as an upscale shopping district has exponentially increased in tandem with the rise in the number of visitors.
Besides being a representative shopping district in Korea, Myeong-dong also houses the headquarters of banks and securities brokers as well as being host to a number of theatres, cinemas and historical sites which completes the diverse mixture found in the area.
Myeong-dong with its grand malls and tourists shopping magnets can be considered and viewed as an indirect representation of South Korea's stature in the aesthetic industry.
Korean beauty brands such as Etude House, sOmang and more can be found rubbing shoulders with international brand names. It is no wonder that in a 2011 poll amongst foreign visitors, many mentioned shopping in Myeong-dong as their favourite activity in Seoul.
South Koreans take their Beauty products seriously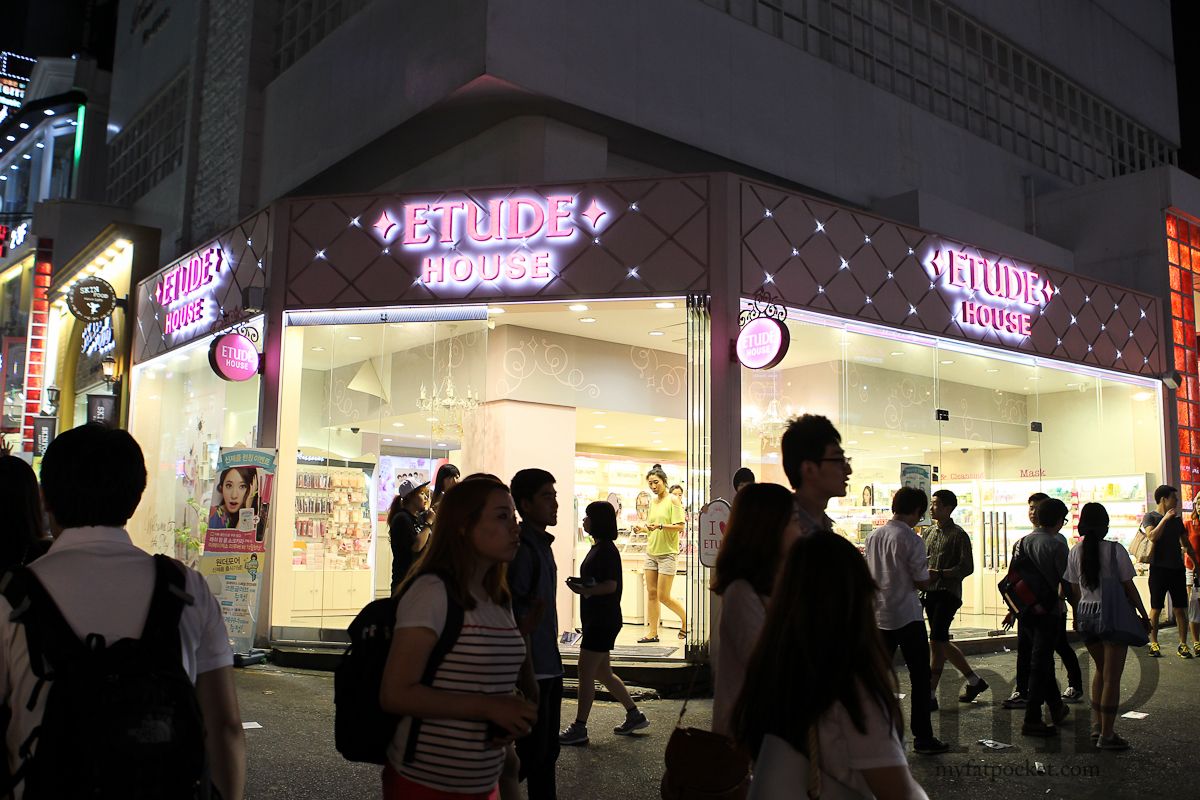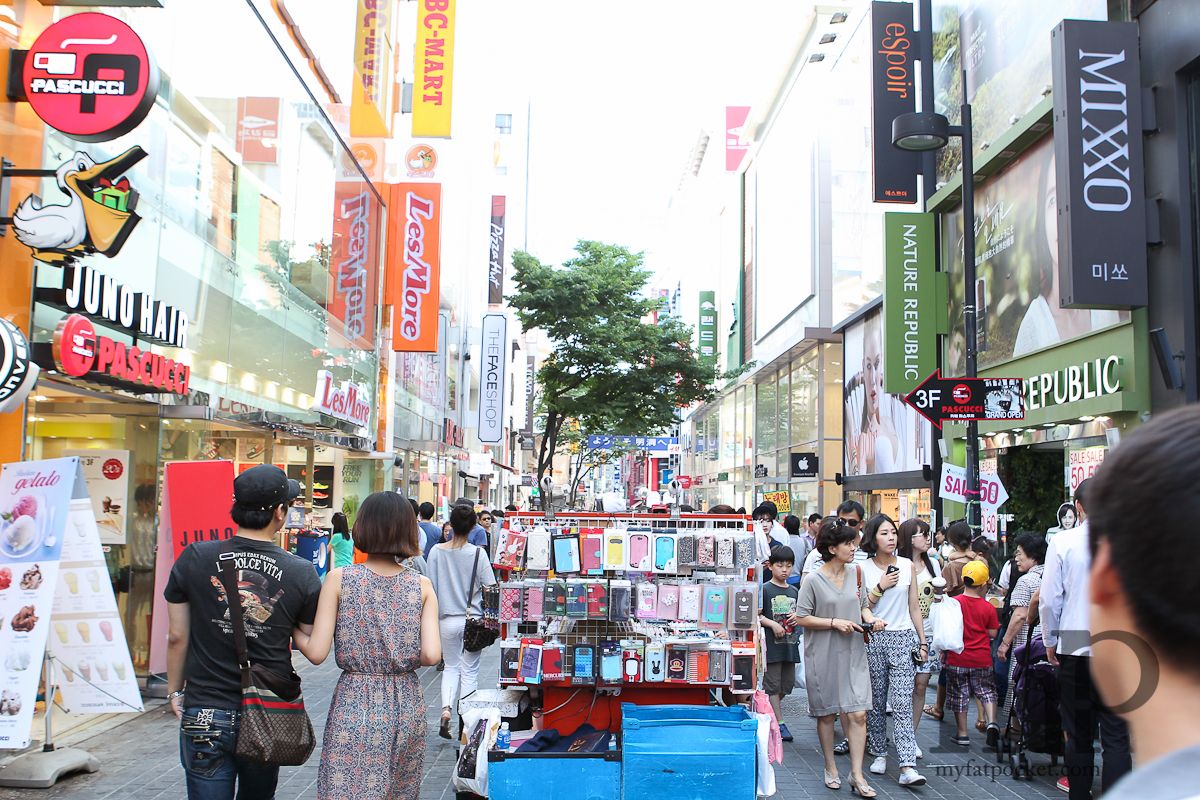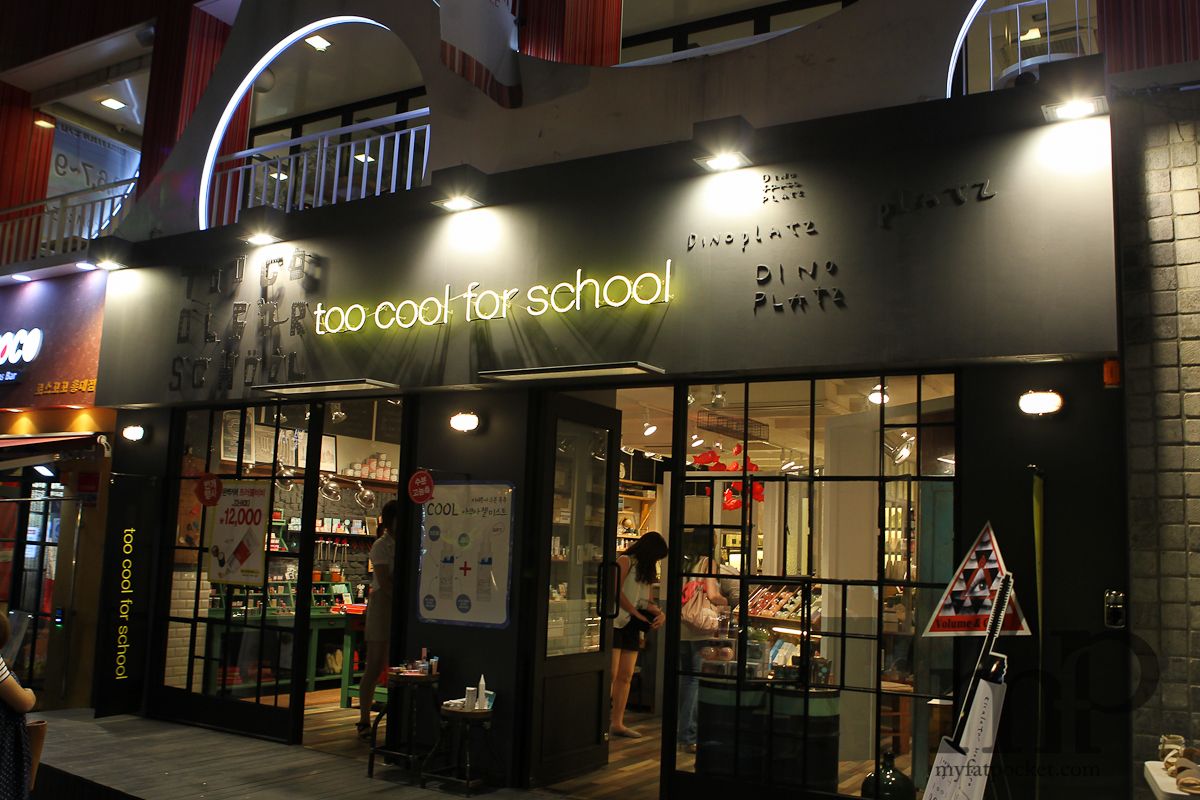 Beauty and skin care brands such as Etude House, sOmang, Too Cool For School, Missha and Skin Food are just some that have become household names even outside South Korea. Thanks to ingenious marketing, endorsements by celebrities and affordability, these brand names have seen a continuous rise in popularity.
Missha for example, have gone from strength to strength from its first store in Myeong-dong back in 2003 to numbering about 300 presently in Korea, with its products also being sold in many countries and cities including New York. Not to be outdone is sOmang, with its impressive track record of awards for quality and business excellence throughout its 16 years of existence.
Etude House is arguably Korea's best selling cosmetic brand. Collaborations with Korean celebrities such as 2NE1 has seen its popularity soar higher and further to places like Japan, Philippines and Taiwan. Its tag-line claim to 'reflect the dream of every woman' seems justified with the ever increasing demands for its products.
Skin Food is an interesting line of cosmetics. Its products contain plenty of nutritive ingredients such as avocado, rice, apple and so on. Literally meaning food for the skin, the brand's unique ingredients have made it a popular choice amongst skin care lovers.
Beauty from head to toe, inside and out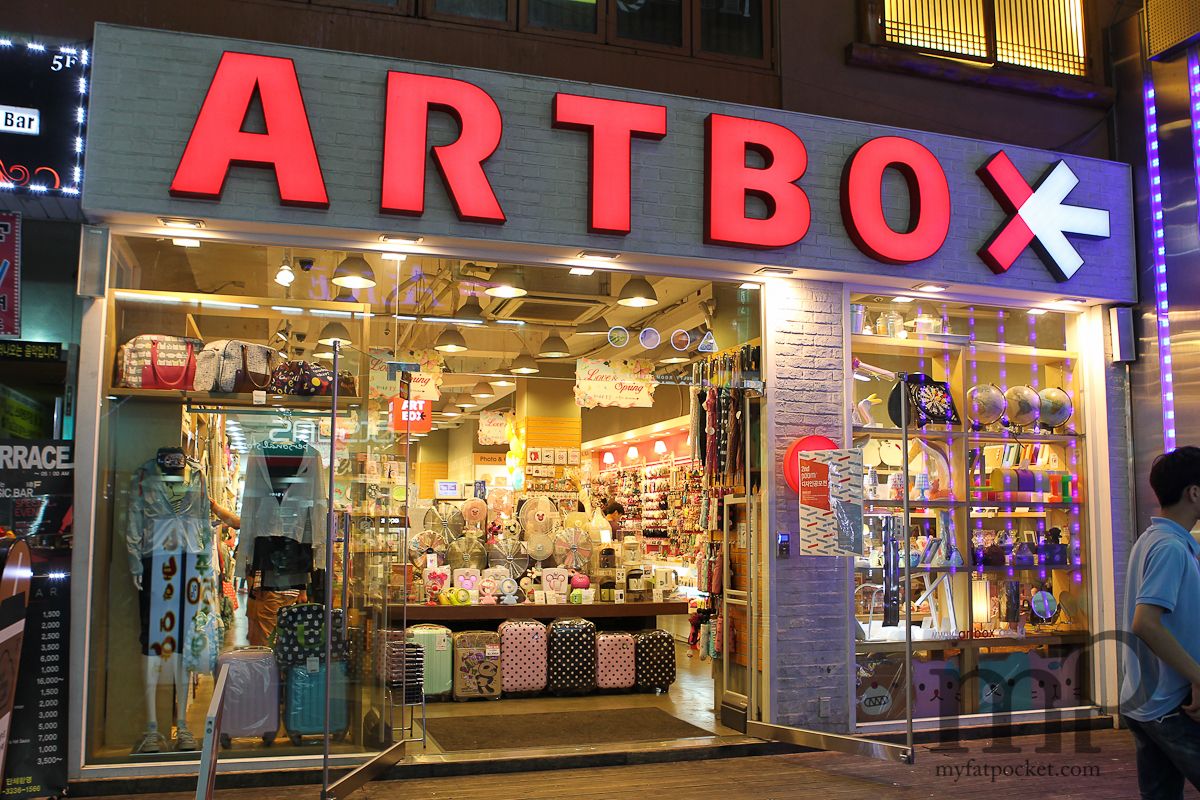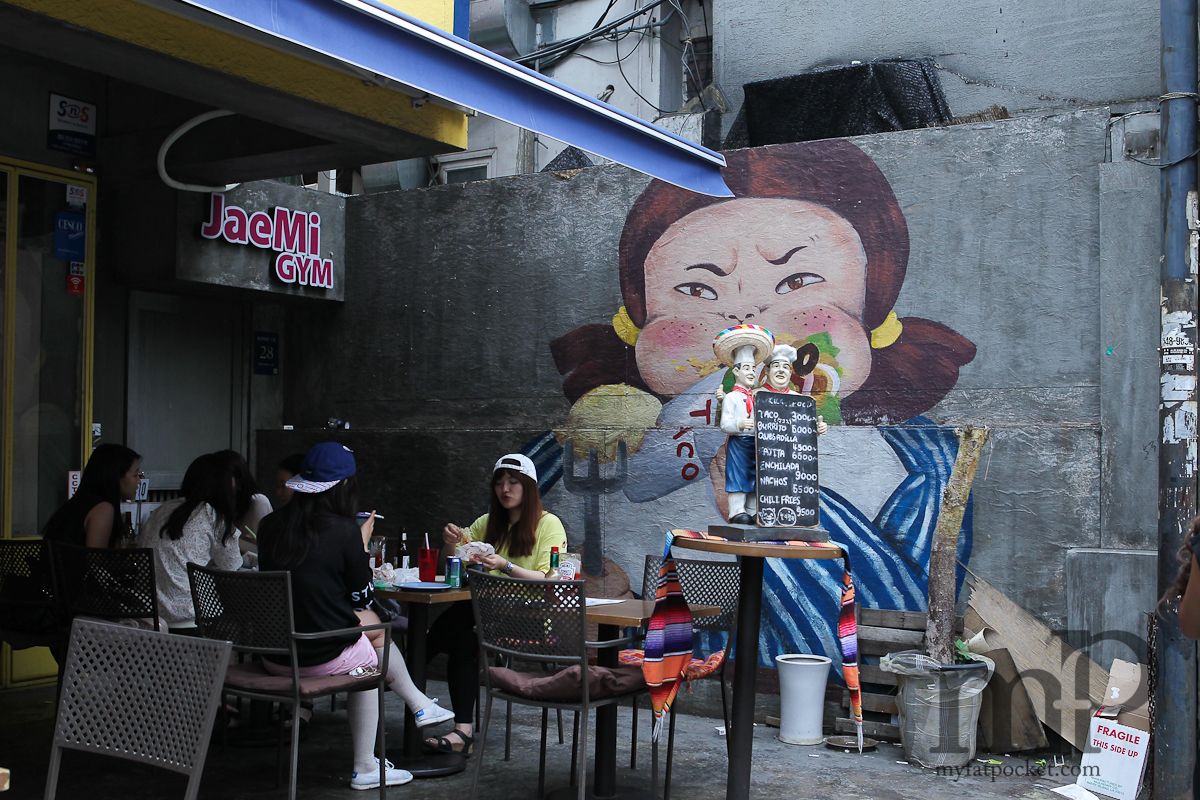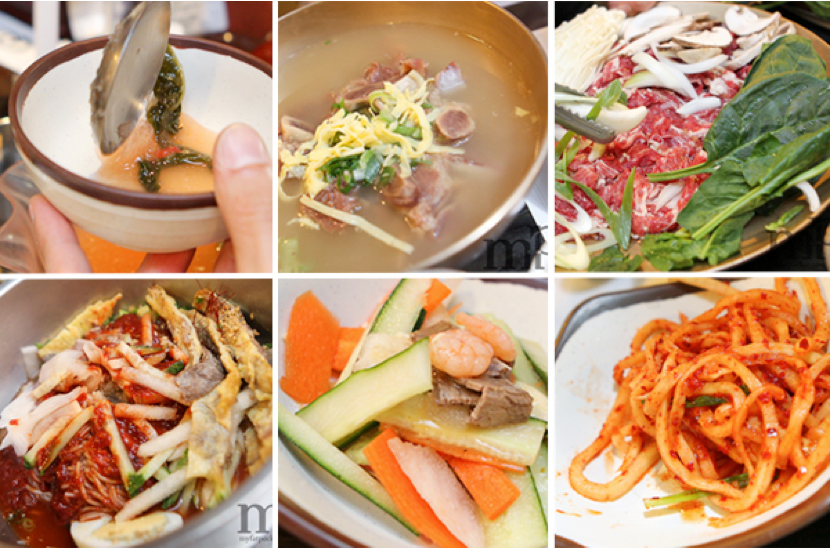 The magnitude of South Korea's beauty industry is prevalent in the many billboards and advertisements featuring products and related services. What is also apparent on the streets of Korea is the sheer number of thin or slim women. Maybe the many beauty products and aesthetic clinics available and at disposal are responsible for this or maybe it's in the food.
South Korean it seems have a healthy appetite for vegetables and meals have always includes a healthy portion of greens.
The popular and staple Kimchi for example, is basically fermented vegetables with the likes of cabbage and cucumbers and variety of seasonings. It is said preservation method as such is a way of getting Vitamin C especially in the winter months. Perhaps the nutritional values in the assorted vegetables that comes with practically every Korean meal, is one reason why Korean women are generally slim.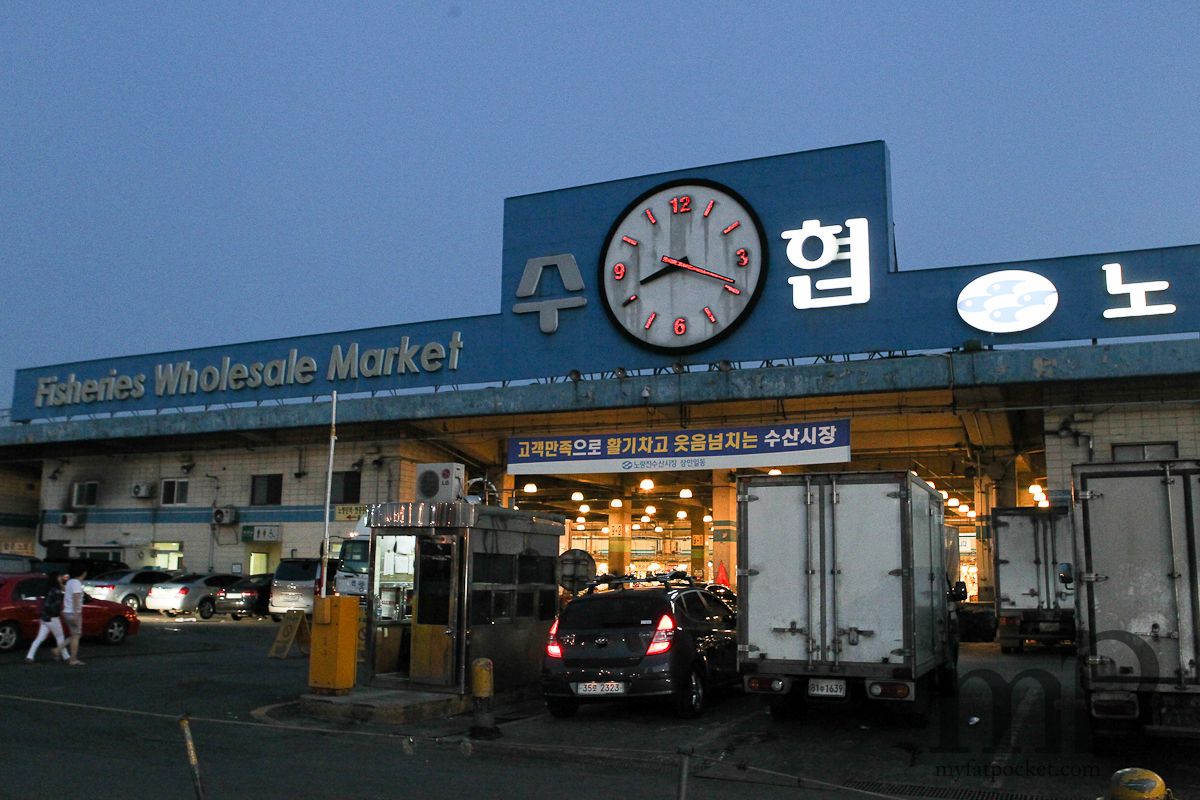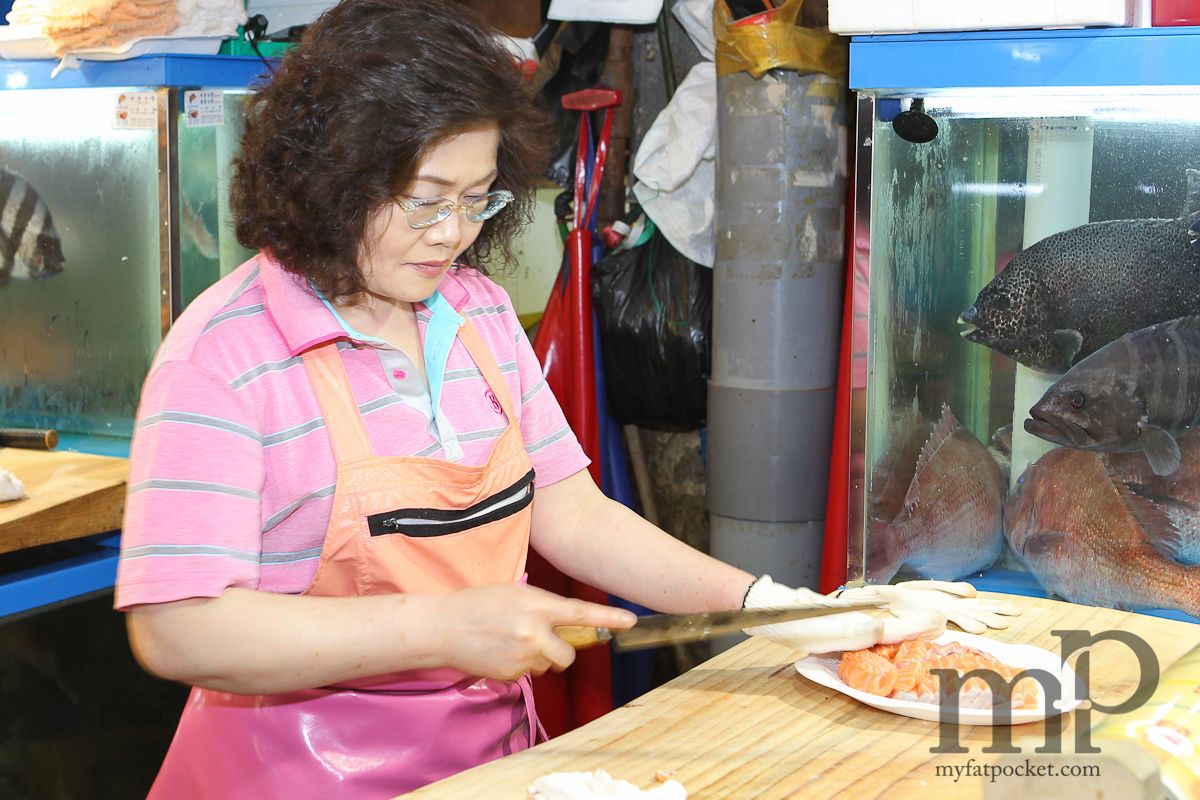 Another healthy eating practice believe it or not, is dining on live octopus. More popularly known as Sannakji and despite the wriggling tentacles, the octopus itself is technically dead. Raw small octopuses are cut into small pieces and offered instantly, usually lightly seasoned with sesame and sesame oil. The delicacy is apparently known as a vitality enhancer though there will be detractors who disagree. Nonetheless, it can prove to be a mental and physical challenge.
Hongdae: the South Korea's version of Bugis Market – but better!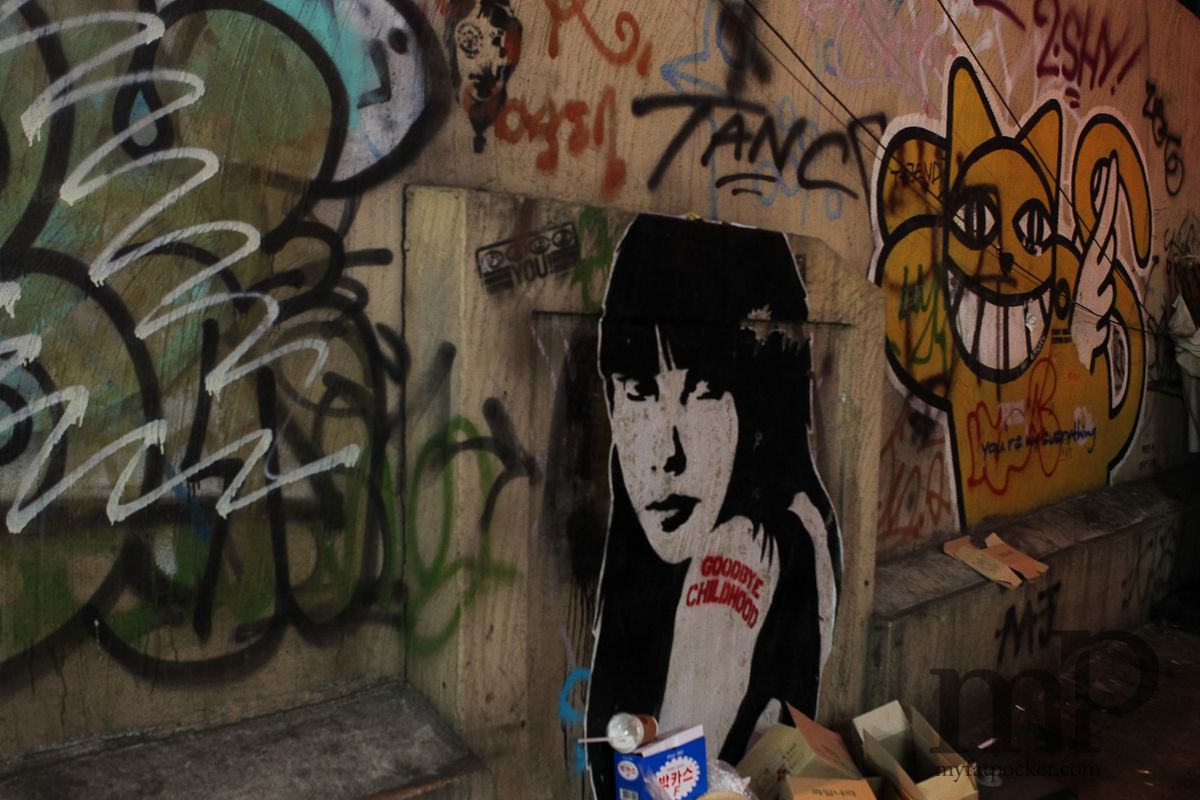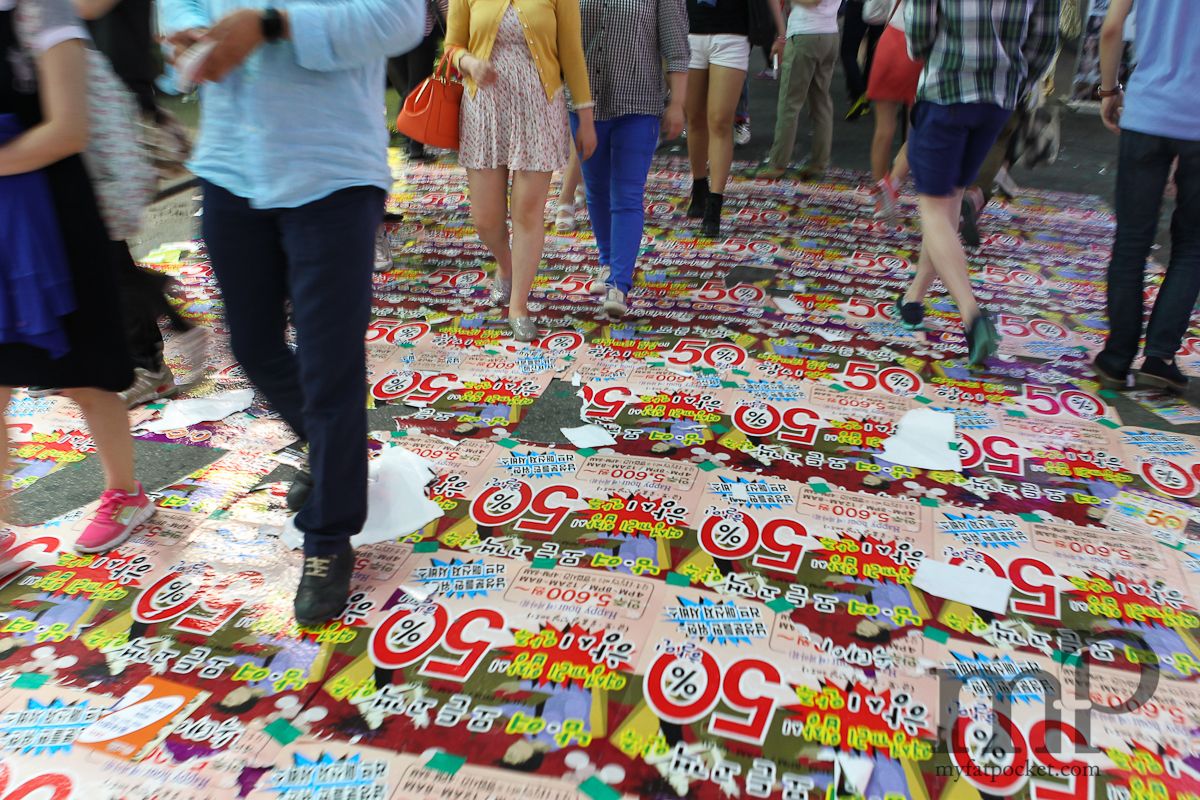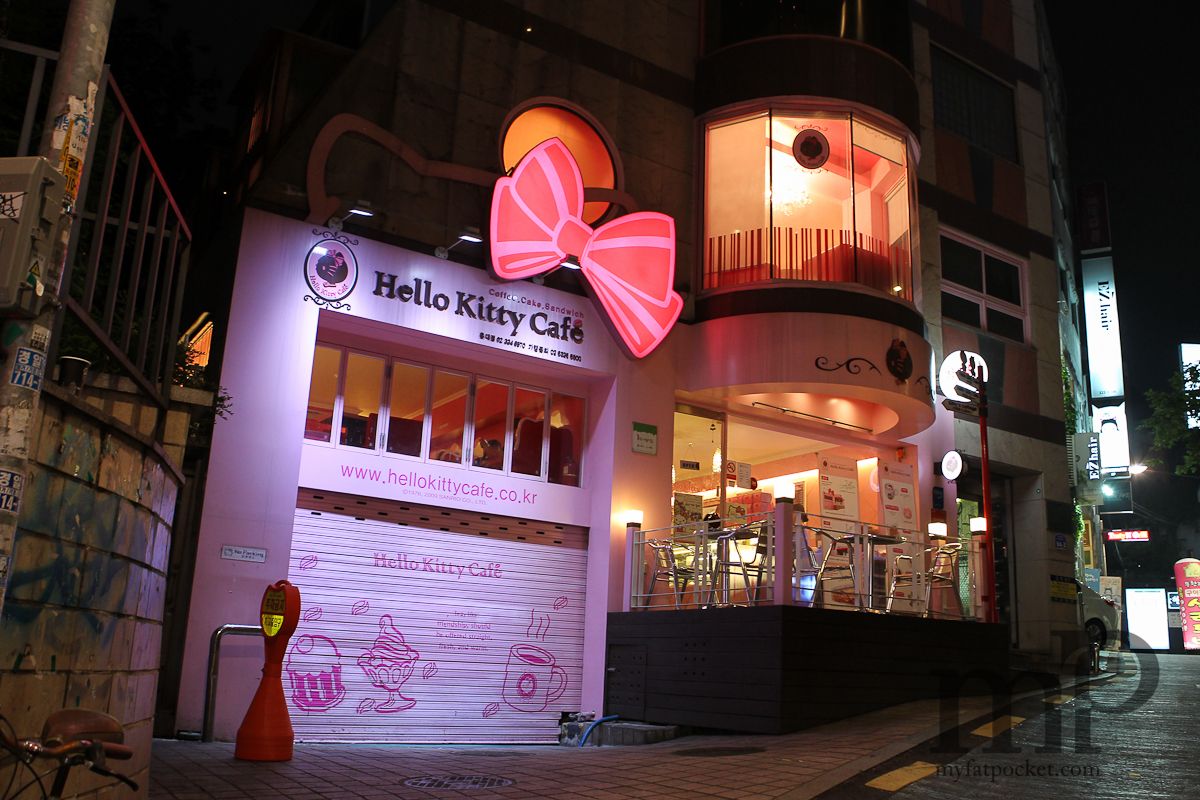 The streets of Seoul are abundant with authentic traditional restaurants, modern shopping malls and more. Amongst the melting pot of modernism and tradition, the underground arts and culture scene is alive and buzzing as well.
Being in close proximity to Hongik University (a prestigious school known for its leading arts and design programs) and YG Entertainment (major K-POP talent agency) are just some reasons that have arguably made Hongdae the mecca of urban arts and underground club culture.
Her streets are paved with wares from street vendors and the air is filled with music from indie musicians; both vying for your attention in a vibrant harmonious celebration of the independent spirit.
Apart from discount and vintage clothes shops and amongst the urban street art festivals, Hongdae is also home to a host of kitschy and quirky cafes. The Charlie Brown Café with its characters from Charles Shultz's iconic Peanut comics, the Bau House Café catering to our four-legged canine friends and Gio Cat Café, lest we forget our feline companions, are just some of the many eclectic cafes that can be found.
The world-famous cat, Hello Kitty, also has a cafe erected in its namesake in Hongdae.
Truly with its array of street attractions and cafes, Hongdae continues to uphold the indie spirit.
---
Related Articles and Videos on our trip to Seoul, Korea:
1. Indepth of Aesthetics and Plastic Surgery in Seoul, Korea by Key Opinion Leader, Professor Beom Joon Kim [Video]
2. Korean Author, Jeong Suhyeon, Talks about her Book, Face Shopper, and how Women can now Shop for a New Face, at iLomys Showroom [Video]
3. Aegyo Sal, Plastic Surgery & Aesthetics Enhancement Prevalent on the Streets of Apgujeong, Seoul [Video]
4. Interview with Mikyung Song, Platelet Rich Plasma procedure (by Dr Moon) Patient at Mifamoon Dermatology Clinic [Video]
5. UPDATE: 1 Month Later. [Editor's Review. Viewers Discretion Advised] Innofill Procedure Live Demo at Mifamoon Dermatology Clinic in Seoul, Korea [Video]
6. How South Koreans take their Beauty Products Seriously [Video]
7. Fashion Spotting in Garosugil, Seoul, Korea
8. Not only a Beauty Mecca, the Winds of are Blowing the Worlds' Interest to the Streets of Seoul, Korea for Fashion [Video]
---