Interview with Dr Ivan Tan from Nu.Reflections Medical Aesthetics Clinic
Nu.Reflections Medical Aesthetics | 15 Aug 2014
Mention the word clinic and chances are the first thing that comes to mind is a brightly lit and sterile looking place with equally stark furnishings all of which permeated by the omnipresent scent of medicine. Add a few distressed waiting patients and basically, it conjures an image of a rather cold and even hostile environment.


At Nu.Reflections Medical Aesthetics clinic however, you are welcomed with a setting resembling more of a cosy living room than that of a typical medical centre waiting lounge. The collection of furnishings acquired from different places seems to cohesively gel exhibiting an immaculate sense of style and comfort. The centrepiece which is an aquarium coffee table housing live fish is aesthetically pleasing to the senses and its (surely) strategic placement exudes a natural calm, ideal for patients awaiting consultation.
Nu.Reflections Medical Aesthetics clinic
The welcoming aesthetic features of Nu.Reflections Medical Aesthetics clinic seems rather apt and reflective of the services it provides. Years of experience in the aesthetic beauty industry has enabled Nu.Reflections to meet the needs and demands of patients, providing them with solutions that achieve individual's desired results.
Employing the use of state-of-the-art equipment and high-end quality products, Dr Ivan Tan has helped many patients realise their aesthetic dreams.
Dr Ivan Tan and his penchant for all things beautiful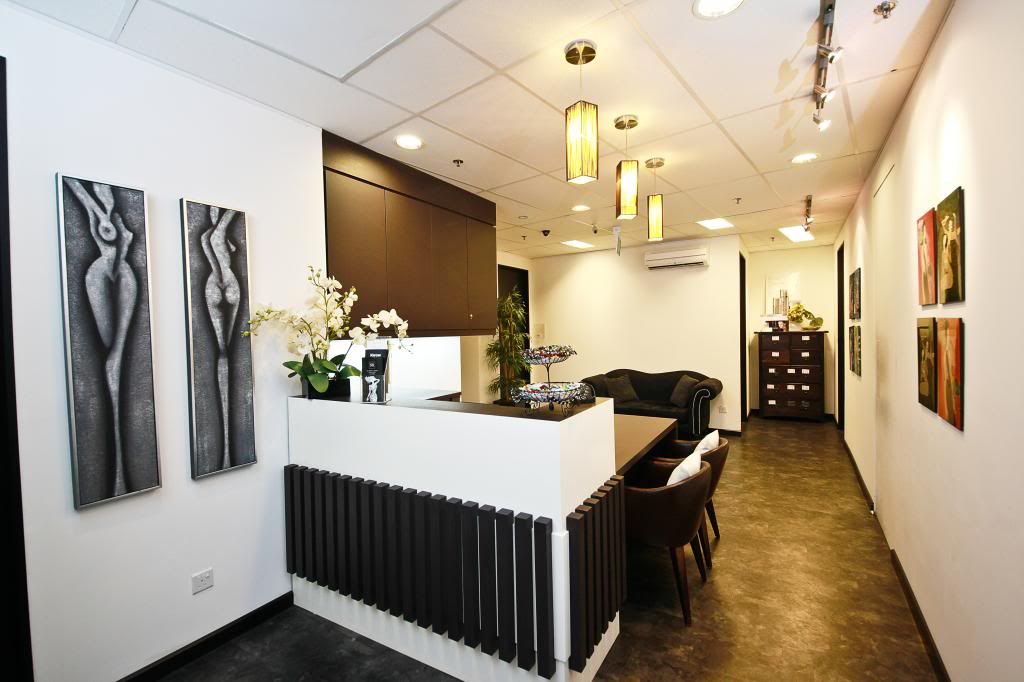 Dr Tan's penchant for all things beautiful is also prevalent in his consultation room. A bookshelf resembling a tree branch sits on one wall; an aesthetic representation perhaps of the branch of medicine Dr Tan specialises in.
The association runs through his clinic where in the powder room - where patients can tend to their makeup needs in private- as well as the hallways, the walls are lined with artwork in the form of beautiful and symbolic paintings. If similarities are drawn to an art gallery then it's undeniable in the same conjured manner of quiet, beautiful and reflective calm; which makes Dr Tan a curator of sorts on a parallel plane.
Dr Ivan Tan, 13 years ago
Dr Ivan Tan first came into private practice in year 2000. After graduating with a medical degree from National University of Singapore (NUS) 1996, Dr Tan spent his internship in Singapore General Hospital (SGH) and subsequently worked as a medical officer in the department of Internal Medicine and Cardiothoracic Surgery.
His interests in dermatology led him to pursue a Graduate Diploma in Dermatology from NUS and subsequently a Diploma in Practical Dermatology from the prestigious University of Wales. It was during his pursuit of both diplomas that he decided to branch out into the highly specialized field of aesthetic dermatology and anti-aging medicine.

During this time, he started researching into the possible use of technology in anti-aging treatment. Dr Tan's passion and commitment led him to many renowned overseas centres which include the UK, Italy Korea and Hong Kong with the sole intention of learning from the best in the field.
As one of the pioneering doctors in Singapore to start using the IPL system and with more than 10,000 patient treatments under his belt, Dr Tan's reputation as a highly sought medical professional is evident especially amongst his Indonesian patients and for 4 years he was also a visiting consultant to 2 aesthetic clinics in Indonesia. Apart from IPL, he also has vast experience in a wide array of other different lasers throughout his years of practice.
The doctor's extensive experience and acute knowledge
Dr Tan's extensive experience and acute knowledge belies his age which makes him one of the youngest doctors in Singapore to have attained a level accomplishment and success usually associated with much more matured fellow professionals.
What's most apparent about Dr Tan is his readiness in offering alternative solutions and openness in sharing his knowledge. His friendly disposition and attentiveness makes for an easy communication which ensures that all issues and concerns are addressed. These attributes are necessary and essential in winning a patient's trust as well as confidence and more importantly, it is a hallmark of a great doctor.

From the eclectic and tasteful furnishings in the waiting lounge to the opulent vanity table in the powder room and the paintings on the walls, a consultation at Nu.Reflections Medical Aesthetics clinic becomes an experience. With a range of treatments that addresses an array of issues from wrinkles, pigmentation issues and more, Nu.Reflections Medical Aesthetics is truly one of Singapore's aesthetic clinics with the most comprehensive range of face aesthetic treatments under one roof.
In the trusted and experienced hands of Dr Ivan Tan and his able team, patients are treated with the utmost privacy and personal care throughout their aesthetic journey towards becoming a more beautiful person.
Nu.Reflections Medical Aesthetics
123 Penang Road, Office tower #05-12 Regency House (next to old Cockpit Hotel)
Singapore 238465
Opening Hours
Mon to Fri: 10am to 8pm
Sat: 10am to 5pm
Tel: (65) 6235 5333
Fax: (65) 6235 0330
For bookings & general enquiries:
This e-mail address is being protected from spambots. You need JavaScript enabled to view it
Website: www.nu-reflections.com