Losing Weight the Safe, Sustainable, and Effective Way
Halley Medical Aesthetics | 26 Jul 2019
In an attempt to and achieve better body contours, many women and men fall for weight loss products that promise them quick or fast results. And if the pills claim that no exercise or diet control is necessary, you can be sure that they are going to sell like hotcakes.
Credit: Very Well Fit
However, we have to be cautious with what we put inside our body. The authority that regulates and approves health products in Singapore, the Health Sciences Authority (HSA),had warned the public in early June 2019 of the adverse effects of three weight loss medications. These products were previously sold online via e-commerce platforms. Fueled by social media publicity, consumers readily bought into the claims that the products delivered "fast weight loss within days" with "no side effects". Unfortunately, the products contained a banned substance, sibutramine.
Lose weight quick and fast
"When it comes to weight loss, many people want the process to be fast and they want it to be easy. Therefore, products that claim to offer quick, guaranteed weight loss, and which are easily accessible via the Internet or over-the-counter have a proposition that is hard to resist," says , Medical Director of .
That is why every now and then, we hear of complications resulting in people consuming off-the-counter slimming medications and landing up in hospital. Dr. Terence Tan advises people to always check in with their doctors for a safe and sustainable way of losing weight. There are enough safe, well-tested medications approved by health authorities like HSA and the US FDA available from doctors.
"Even with well-studied, FDA-approved medications, side effects can and infrequently do occur. That is why any weight loss treatments involving medications need to be supervised by trained personnel," he emphasises. (Watch Dr. Terence Tan's thoughts on medications for weight loss .)
US FDA-approved weight loss medications
In the past, there were only one or two effective medications to facilitate weight loss. These weight loss medications, while effective, were not suitable for everyone. Some people did not like certain side effects associated with these medications or had medical conditions, which made these medications unsuitable for them.
The US Food and Drug Administration (FDA),which is arguably the most respected drug regulatory agency in the world, had not approved any new weight loss medications since 1999. Then in 2012, the US FDA started approving a number of weight loss drugs. One of them is Saxenda, the injectable weight loss medication, which has recently been approved by HSA in Singapore. This is in addition to Xenical, which was already available in the past.
Having more choices that are safe, effective, and medically-proven is good for patients. Let us have a brief look at what you can talk to your doctor about if you are looking at weight loss medications.
Saxenda
Saxenda is an injectable weight loss medicine that can only be prescribed by a doctor. It is a prefilled injection pen, which patients will need to use once daily. Combined with a healthy lifestyle, Saxenda can help adults lose weight and keep it off. Studies have shown that people, in general, will lose about 10% of their body weight with Saxenda.
Dr. Terence Tan offers nine facts about Saxenda that you might like to know in the video below.
Other doctor-only weight loss medications
Examples of other weight loss medications include Duromine and Xenical. Duromine is a weight loss supplement that acts as an appetite suppressant. Xenical blocks the fat from being absorbed by our body.
"The first phase of weight loss is generally the most painful one," says Dr. Terence Tan. "This is the phase whereby one has to eat far less than one needs or exercise far more than one used to do. This initial phase of weight loss is where I feel short-term use of medications are important, as it can take the pain out of the weight loss process."
As for how long, how much, and when to stop, please consult a doctor who would be able to advise you after examining and talking to you. He will also need to monitor your progress and adjust your prescription if necessary. Never self-medicate.
But if weight loss medications are not something that you want to explore, there are other options available to help you in your weight loss journey.
Optifast from Nestle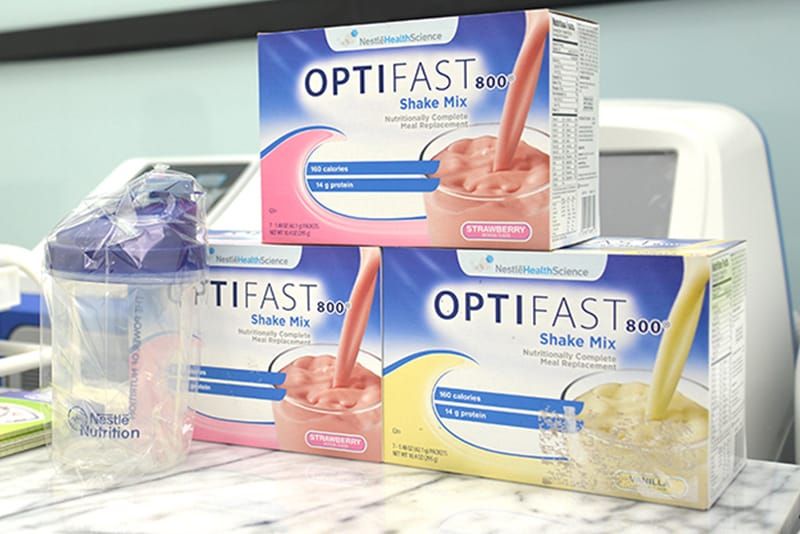 Optifast from Nestle is a clinically-proven meal replacement product to help overweight patients lose excess weight, improve health, and lower weight-related health risks. Low in calories and easy to prepare, it is only available in hospitals and medical clinics. One sachet contains a nutritious 160 kcal meal consisting of protein, vitamins, and minerals. Although individual results vary, studies have shown that the typical patient on a full Optifast diet can lose an average of 22 kg in 26 weeks.
Nopal
Nopal is a fibre supplement that gives your body a sense of fullness. When combined with a meal replacement or weight loss medications, it gives a sense of satiety. This helps to reduce the desire for overeating or unnecessary snacking. So if you take in fewer calories (or use up more calories through exercise), you lose weight!
With a variety of weight loss options available, take the safe step and consult a weight loss doctor. You don't have to navigate the psychological minefield that one goes through during weight loss alone.
Halley Medical Aesthetics
277 Orchard Road #03-15
orchardgateway
Singapore 238858
Opening Hours
10:00 am - 9:00 pm Daily
Contact
Tel: +65 6737 8233
For more information, please go to:
www.facebook.com/halleymedicalaesthetics
www.halley.com.sg
www.instagram.com/halleymedicalaesthetics
blog.halleymedicalaesthetics.com

Video channels:
Halley Medical Aesthetics on YouTube
Halley Medical Aesthetics on Dailymotion
Our Panel of Doctor's Services

Dr. Terence Tan, Halley Medical Aesthetics
Total Slim Programme, Duration: 3 months
This comprehensive slimming programme is a doctor-managed three-step weight management program for optimal result. It includes three slimming consultations with the doctor and three types of weight loss medication.
Total Sculpt Programme, Duration: 6 months
Our body contouring treatments use the latest non-invasive, no down-time body shaping programme that works best with our Total Slim Programme to slim and contour areas with stubborn fats. Includes eight sessions of Freeze-Fat-Away Body Contouring Treatment and four sessions of Magic Slim Body Firming Treatment.
Slim Sculpt Programme, Duration: 6 months
Combines Total Slim Programme, our doctor-managed slimming programme, with Total Sculpt Programme, a no down-time body contouring programme, to achieve weight loss and shape and tone your body.
Freeze-Fat-Away Body Contouring Treatment
Freeze-Fat-Away Body Contouring Treatment uses an advanced fat cell elimination system that combines cryo, vacuum, and light-emitting diode (LED) technologies to remove fat cells.
Magic Slim Body Firming Treatment
Combines multi- polar radio frequency (RF) with red light-emitting diode (LED) therapy and vacuum-suction lymph massage to slim, contour, and tighten the areas (e.g. stomach, thighs, arms) that you want to treat.
277 Orchard Road, #03-15 Orchard Gateway, Singapore 238858