Medical Aesthetic Treatments: Common Myths Debunked!
Xinyi Soh | 6 Oct 2017
It is common knowledge that our skin is our largest organ, so it makes sense that we are diligent in spending a good amount of time looking after it. If you have a fixed skin care regime and you have been following it religiously, that's great. But before you think you have everything under control and your anti-aging regime is perfect, you might want to take a look at these common myths about anti-aging.

Credit: The Praying Women
Applying Moisturizer is Enough To Keep My Face Looking Young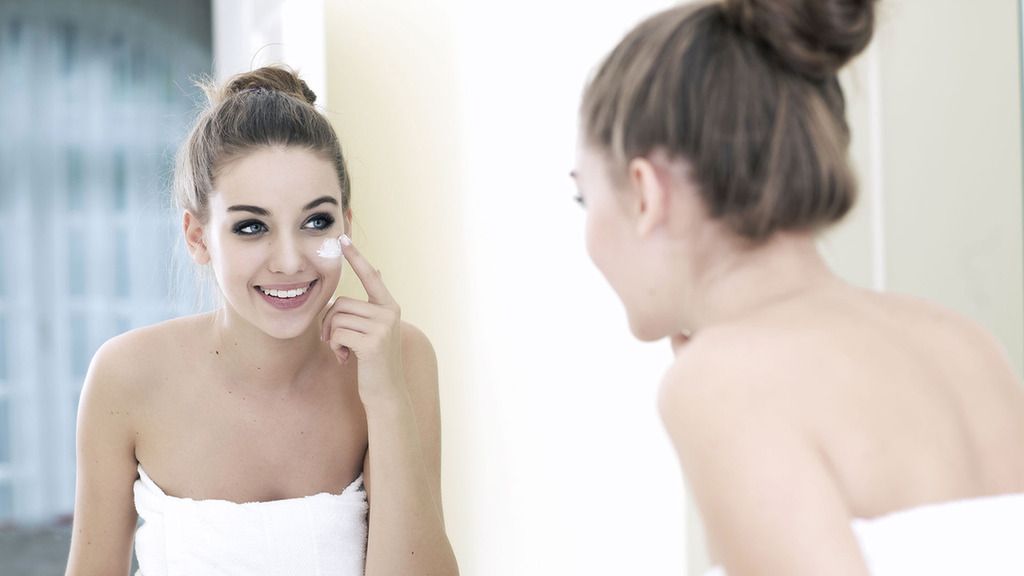 Credit: She Knows
Applying a good moisturizer on the face after your bath is a good habit to keep your face well-hydrated and wrinkle-free. Beauty experts will probably tell you that applying moisturizer on the face religiously is not the secret to her smooth complexion.
Moisturizer is beneficial to skin health because it seals in the moisture and rehydrates the skin so that it is kept smooth and firm – temporarily.
A long-term solution to address aging skin such as wrinkles and fine lines is to undergo aesthetic treatments that actually target them such as dermal fillers and botox.
It is Sufficient to Only Use Makeup with SPF for Sun Protection
Credit: Huffington Post
Having SPF protection in your foundation is a bonus but it is often not enough to provide a total protection against the harmful UV rays of the sun. You may notice that even if after applying sunscreen religiously, you still end up getting age spots and pigmentation on the face.
To make sure you have adequate coverage from the sun's harmful rays, use products with broad-spectrum protection to block both UVA and UVB rays.
"It is almost impossible for anyone to stay out of the sun totally. A more practical approach is to apply a good sunscreen 2 hours before you leave the house and reapply every 2 hours," says Dr. Siew Tuck Wah, Medical Director of Radium Medical Aesthetics.
For people with hyperpigmentation due to sun exposure, there are treatments you can seek to achieve radiant, flawless skin. Dual Yellow Laser is an excellent treatment for stubborn pigmentation, melasma, acne, and rosacea. It works particularly well because the unique wavelengths are capable of reaching the deep dermis to break down the pigments.
Alternatively, for people suffering from stubborn hyperpigmentation, our best-selling Skin Illumination Program is an ideal treatment plan. It consists of not one, but 4 gentle-pigment reducing lasers – Dual Yellow Laser, Skin Brightening Laser, Ruvy Touch Pigment Laser, and LASEMD Skin Perfecting Laser.
Indoor Tanning Should Be Safe Since I am Not Exposed to the Harmful UV Rays
Credit: NY Mag
This can't be further from the truth. Many indoor tanning companies claim that their tanning beds are safe because they filter out the harmful UV rays.
Truth is, when you visit the indoor tanning company to get a beautiful, golden tan, you are still exposing your skin to UVA rays, which penetrate deeper into the skin as compared to UVB rays. Over time, it may cause more damage to the skin and could lead to skin cancer.
Lack of Moisture is the Only Issue with Skin Aging
Credit: Women Fitness
Aging is a complex process. Other than noticing more grey hairs on your head, the skin also undergoes a great deal of change as we age. As we grow older, we see wrinkles, fine lines, and stretch marks on our skin. We don't only lose moisture, but there is also a significant reduction in the amount of collagen and elastin fibers in the skin. This leads to sagging skin which hangs loosely from our face.
Regular exposure to the harmful UV rays can accelerate aging as well. Non-surgical thread lift such as Silhouette Soft Thread Lift and PDO Thread Lift are excellent non-surgical methods to reposition and lift sagging skin.
Alternatively, Ultherapy is a non-invasive way to stimulate collagen from within. Results of Ultherapy are not immediately visible like non-surgical thread lift treatments as it takes time for collagen to stimulate and develop in the face. Best outcome can be observed 3 months after the treatment.
Radium Medical Aesthetics
3 Temasek Boulevard #03-326
Suntec City Mall
Singapore 038983
Opening Hours
Monday to Saturday – 10.30 am to 9 pm
(Last appointment at 8 pm)
Sunday – 10.30 am to 3 pm
(Last appointment at 2 pm)
Contact
Phone: +65 6837-0507
Whatsapp: +65 8868-0356
For more information, please go to:
Website: http://radium-aesthetics.com/
Email: This e-mail address is being protected from spambots. You need JavaScript enabled to view it
Our Panel of Doctor's Services

Dr. Terence Tan, Halley Medical Aesthetics
Anti-aging Programme 1
It is Halley's crème -de-la-crème of anti-aging treatment, which combines a full-face Ultherapy treatment with a glycolic acid peel and topped with a pampering Halley's Signature Facial (Rejuvenation/Fim It Up) to give you firm, smooth skin.
Anti-aging Programme 2
This effective yet affordable anti-aging treatment addresses sagging skin and provides skin renewal by combining a long-pulsed laser rejuvenation treatment, pigment laser, glycolic acid peel with a pampering Halley's Signature Facial (Rejuvenation/Firm It Up).
277 Orchard Road, #03-15 Orchard Gateway, Singapore 238858