My Fair Lady… Achieve Winter Fairness with Crystal Tomatoes
Astique Clinic | 27 Dec 2013
"Mirror Mirror on the wall…"
We are all familiar with the tale of Snow White whose skin was white as snow and the envy of an evil Queen. The fair maiden was ultimately rescued by a handsome and young Prince, and they got married and lived happily ever after.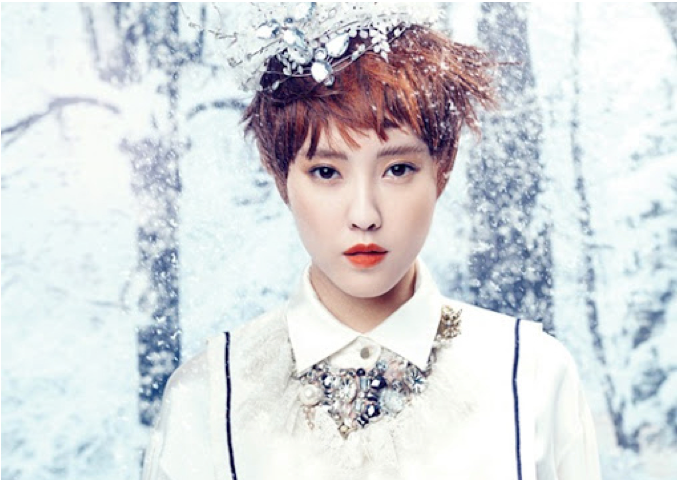 Snow. White. Fair. Besides our obsession with fairytales (due to their warm fuzzy happy endings no doubt) we seem to have a preoccupation with fair skin and tend to associate them with the concept of ultimate beauty.
The K-Wave phenomenon that has hit global shores with its constant, relentless export of fair complexioned celebrities.
This seem to reinforce the belief that having fair skin is perhaps indeed one of the measures of true beauty. The staggering amount of whitening and skin lightening products available in the market is testimonial to this specific demand of today's consumers. For some, the solution can be found in Nature.
They say an apple a day keeps the doctor away which on hindsight could be the reason why there were none around when Snow White fell into deep slumber, though she did land herself a Prince nonetheless.) Apart from the purported health benefits of apples, another fruit (or vegetable) less well-known is the humble tomato.
Tomatoes are rich in nutrients containing health and beauty benefits. The outer layer of a red tomato contains Lycopene, an antioxidant that can prevent many types of cancer as it protects the body from free radicals substances. The inner layer, which is the heart of the fruit, contains an amount of Vitamin C that meets 40% of a person's daily requirement intake!
So it's wise to add a few red tomatoes to that salad and maybe a couple white ones as well. Hang on, white tomatoes?

In one of the most established laboratories in Israel, unique non-genetically modified white tomatoes containing a high concentration of colourless carotenoids (colourful plant pigments) were grown.
Phytoene and Phytofluene were specially cultivated for use in the supplement and a patented technology was developed by the scientists to extract the colourless carotenoids from the tomatoes, preparing it for oral consumption.
Today, these white tomatoes are more popularly known as Crystal Tomato.
The groundbreaking active ingredient - colourless carotenoids - is nature's super whitening ingredients and the reason for CRYSTAL TOMATO™ efficiency. Made from 100% natural ingredients that offer skin protection against daily sun damage while repairing the skin, CRYSTAL TOMATO™ is a revolutionary skin care supplement that also maintains beauty from within.
Consuming large amounts of orange or red carotenoids can change the skin's colour to a tan or orange shade. Colourless carotenoids on the other hand, do not contain any visible colour and will not affect the skin's colour. Regular tomatoes contain only negligible amounts of Phytoene and no Phytofluene and as such the benefits pale in comparison to Crystal Tomatoes.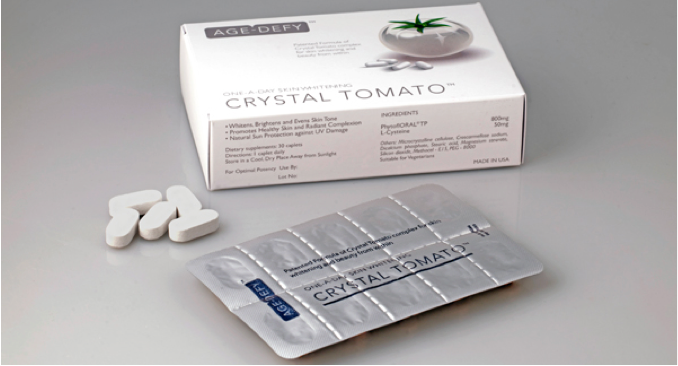 The scientifically proven benefits of CRYSTAL TOMATO™ are:
1. Serves as a natural sunscreen against UVA and UVB rays to protect against UV damage, photo-oxidation and sunburn.
2. Acts as anti-oxidants to protect against free radical damage caused by environmental aggressors.
3. Contains anti-inflammatory properties against wounds and UV damage.
4. Inhibits melanin synthesis to prevent pigmentation spots from forming.
5. Reduces the melanin present in the cells including dark acne scars, freckles, dark underarms and age spots for an anti-ageing and anti-photo ageing effect.
6. Prevents DNA damage.
7. Promotes even skin tone and radiant complexion.
8. Protect and enhances the efficacy of other active ingredients and their activity.
You say "Toh-meh-toh" and I say "Toh-mah-toh". But what indisputable is the benefits of CRYSTAL TOMATO™ and the wonders it can do for the skin. As Crystal Tomato is sold only in authorized doctors and aesthetic clinic today for your supply and your other aesthetic needs!

Astique. The Aesthetic Clinic
350 Orchard Road
#08-00 Shaw House
Singapore 238868
Opening Hours
Mon to Fri: 11 am to 8 pm
Sat: 11 am to 4 pm
Sun and PH: Closed
Tel: 6732 3801 Hp: 9857 7892 Fax: 6235 0966
For bookings & general enquiries:
This e-mail address is being protected from spambots. You need JavaScript enabled to view it
Website: Astique Clinic