Myth 2: Frequent Laser Treatments Thin the Skin
Astique Clinic | 9 Feb 2015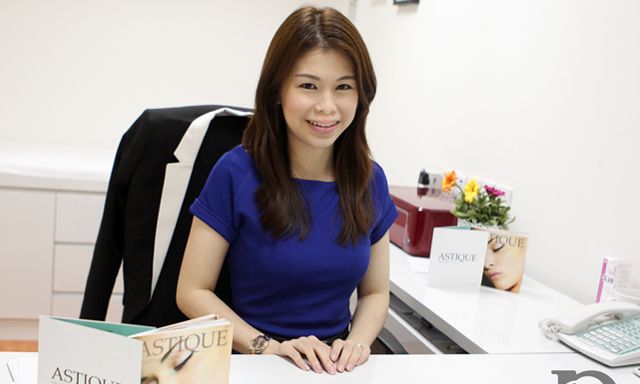 The responsibilities of being a modern woman can be daunting for some. The precarious balance of being a career woman, a wife and mother is not easily achieved. However, there are many exemplary women who have managed to balance such responsibilities and excel in each one as well. Dr Celine Leong of ASTIQUE, THE AESTHETIC CLINIC is one of them.
A member of the American Academy of Aesthetic Medicine, Dr Celine is always willing to dispense advice and share her knowledge.
The vast array of aesthetic treatments made available these days have created as many options for consumers. One example is laser treatment technology.
There many laser treatments that are available to address the myriad of aesthetic issues and concerns. But when it comes to laser treatment one of the most common misconceptions is that it thins the skin and therefore shouldn't be done regularly.
The advanced technology utilised in aesthetic treatments has certainly be helping many people realise their beauty dreams. Naturally, with more being offered in terms of treatments and procedures; more concerns are raised as well.
So it is vital to dispel myths and remove misconceptions from facts. Watch the video below!
Stay tuned for more myth busting and facts with Dr Celine Leong!

Astique. The Aesthetic Clinic
350 Orchard Road
#08-00 Shaw House
Singapore 238868
Opening Hours
Mon to Fri: 11 am to 8 pm
Sat: 11 am to 4 pm
Sun and PH: Closed
Tel: 6732 3801 Hp: 9857 7892 Fax: 6235 0966
Our Panel of Doctor's Services
DR Celine Leong, Astique Clinic
Acne Treatment Programme, $349
PPx Pore-Cleansing ACNE Treatment™ (PPX) is an advanced technology that combines a gentle vacuum with therapeutic broadband light, to help rid skin of acne-causing impurities, leaving your skin cleaner and clearer. It is combined with laser treatments, chemical peels and blue LED light treatment to bring about more effective results and healthier, clearer, more youthful-looking skin.
Pigment Laser, $350
At ASTIQUE, we use the Medlite from HOYA ConBio®, the latest in Q-switched laser technology. The Medlite has been studied in many clinical trials and is approved by the FDA for the successful treatment of pigmentation disorders.
Pore Toning Laser, $350
The Cooltouch CT3 plus laser is the "gold standard" non-ablative laser for wrinkle and stretch mark reduction as well as acne and acne scar treatment, and is suitable for all who are seeking a non-invasive anti-aging treatment to improve their skin and appearance.
350 Orchard Road, #08-00 Shaw House, Singapore 238868