Pigmentation
Assurance Skin, Laser & Aesthetics | 22 Oct 2015
Facial pigmentation include freckles, sun spots, melasma, Hori's macule and etc. It could be due to many different reasons e.g. sun, genetic predisposition, pregnancy, contraceptive pills and aging. Dr Wong considers accurate diagnosis as the most important step in the management of facial pigmentation as it affects the decision and selection of treatment plan. 
Credit: Skin Trium
1. Freckles
Freckles with superficial pigmentation
Freckles are 1-2 mm brown spots, commonly seen on the face, shoulders, back of people with fair skin. Family history, genetic predisposition, and cumulative intensity of sun exposure will affect the extent and severity of freckles. In Dr Wong's experience, the treatment of choice is to use M22 OPT intense pulsed light. Often with a few sessions of M22 OPT treatment the freckles would be nearly all gone! 
2. Solar Lentigine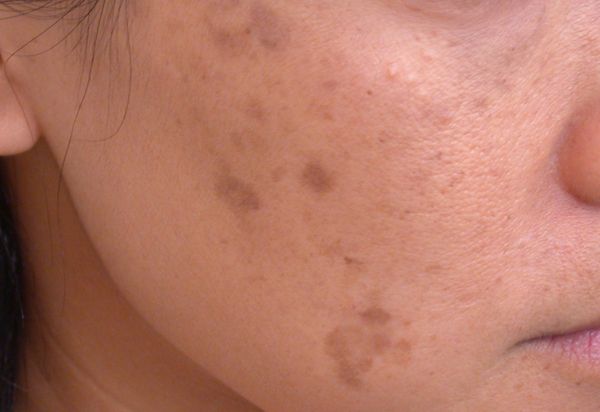 Lentigine with superficial pigmentation
Solar Lentigine has a strong association with sun exposure and is commonly known as the "sun-spot". It is common on the face and arms and appears as single or multiple round or oval patches of pigmentation. They can be treated with topical creams or M22 OPT pulsed light treatment, as well as Q-switched YAG laser, all with excellent result!
3. Melasma
Melasma with superficial & deep pigmentation
Melasma usually starts around mid or late thirties and it generally appears on the cheeks or forehead as brown pigmentation. It is contributed by many reasons e.g. genetic/family history, pregnancy, birth control pills and sun exposure. Melasma can be grouped into epidermal (superficial), dermal (deeper) and mixed (both superficial and deep). The general goal of treatment is to lighten 30-90 % and the more superficial melasma response best to treatments. But its recurrence rate is high and ongoing sun avoidance is very important!  
4. Hori's macule
Hori's macule with deep pigmentation
Hori's macule is a fairly common facial pigmentation that is under-diagnosed. Often occurring on both sides of the cheek, the bean-sized pigmentation can appear from light brown, dark brown to dark blue in color. Mostly occurring in women starting around the age of thirties, Hori's macule responds only to laser treatments and multiple sessions of laser treatments are required to clear it. 
5. Nevus of Ota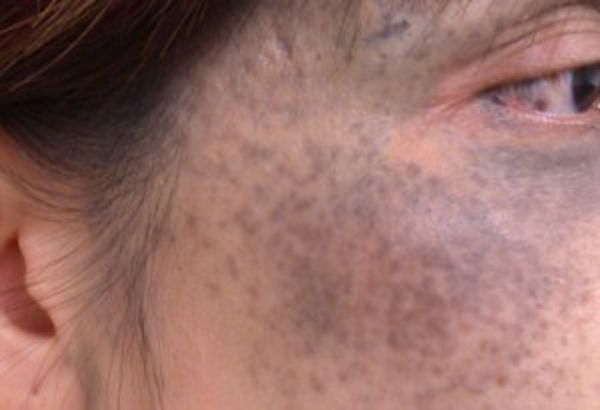 Ota Nevus with deep pigmentation
This is a dark-blue birthmark with pigment deposits deep in the dermis, often seen in unilateral cheek. It occurs at birth in 40% of time, or before the age of twenty. Only laser treatment is effective to lighten or remove the pigmentation.
6. Post inflammatory hyperpigmentation (PIH)
PIH usually follows after acne, dermatitis, mechanical or thermal injury to the skin and occurs gradually one to several weeks after the injury. It is common in pigmented Asian skin and will usually fade naturally over time. Younger patients will see theirs fade quickly; while fading would take a longer time for older patients. Dr Wong will treat PIH with lightening creams and laser for faster resolution if patient cannot wait for natural resolution.
7. Dark eye circle
Dark eye circle occurs because of several reasons: thin skin, skin pigmentation, capillary / venous vessels beneath the skin surface, tear trough and optical illusion. Proper evaluation and correct diagnosis is important as it would affect the treatment decision and approach. In general , topical creams, laser and filler injections will be used to remedy the underlying cause and improve the appearance of the dark eye circle.
8. Seborrheic keratosis
Seborrheic keratosis is commonly known also as "age spot". Dr Wong often jokes with the patient and call seborrheic keratosis the "long service  medal" because its occurrence is often age-related. Genetic predisposition will cause some patient to have them at an earlier age. They commonly occur on the face and body and are easily removed with laser and electrosurgery.
Treatments for Pigmentation
1. Sunscreens
The simplest treatment to protect the skin from the development and worsening of the pigmentation is the use of a sunscreen. Sunscreen is also important after all lightening treatment  so that the pigmentation will not recur.
2. Topical creams 
Most prescription creams used to lighten the skin contain hydroquinone. Hydroquinone lightens and fades darkened skin patches by slowing the production of melanin so those dark spots gradually fade to match normal skin colour. Non-hydroquinone creams are also available but they are generally weaker. Treatment normally takes anywhere from three months to a year or longer to be effective.
3. OPT
Optimal Pulse Technology (OPTTM) is an advanced and improved version of Intense Pulse Light (IPL). Each light pulse penetrates tissue and creates a controlled destruction to the pigmentation while leaving the surrounding healthy skin and vessels unaffected. The body's natural process will then remove the charred and damaged pigmentation from the treated area. According to published data, physicians' rating of improvement of pigmentation after 3-4 OPT treatments is 84.6%.
4. Q-Switched ND YAG laser
Q-Switched ND-YAG laser is the Gold Standard for pigment lightening treatment. Pigmented skin lesions like solar lentigines, freckles, Hori's macule, nevus of Ota and tattoos can all be effectively treated with Q-Switched ND-YAG laser. Q-Switched laser beam delivers high power laser energy  into the skin in super quick nanosecond speed. This results in pigment destruction with minimal injury to the surrounding skin. The laser targets skin pigment with a photomechanical action to effect their destruction and eventual elimination from the body. 
5. OBAGI Blue Peel
OBAGI Blue Peel uses trichloroacetic acid (TCA) as the active ingredient. Dr Wong will mix the TCA with the patented Blue Base from Dr Obagi and coat the Blue Peels on the facial skin based on the level of skin damage and the desired level of improvement. The procedure takes less than an hour and a burning sensation will occur that lasts only 10-15 minutes. A bluish tint will stay on the facial skin that usually washes off in 24 to 48 hours. Within 2 to 3 days, the skin will begin to peel and this peeling continues over the next several days. By Day 7 to 10, the skin should be healed, rejuvenated and pigmentation lightened or removed. 
Assurance Skin, Laser & Aesthetics
Mount Elizabeth Novena Specialist Centre
#10-22/23, 38 Irrawaddy Road
Singapore 329563
Opening Hours
Weekdays: 9am to 5pm
Saturdays: 9am to 12.30pm
Sundays & Public Holidays: Closed
Contact