The Agony of the Girl with a Moustache
Astique Clinic | 23 Dec 2015
Some men grew moustaches as a part of their styling, or to up their manliness. Some do it in light of creating awareness in Movember. But many of the ladies amongst us have that shadow right above our upper lip, albeit unwillingly. Perhaps it isn't exactly a thick and bushy moustache, but that fuzziness is enough to put us ladies in some kind of an agony. Well, we can only blame our DNA, I guess. 
Credit: kozepsuli.hu
It is fun to use a hipster's fake moustache for your Instagram photos, or to stick one below your nose pretending to be Charlie Chaplin on Halloween night. But if you have a permanent female moustache, it is no longer fun anymore. It can be quite depressing in fact.
For a lady with a moustache, the associated loss of feminine beauty makes one feel embarrassed and inferior. No matter how many times it was waxed or shaved, the stubborn fuzz that took permanent residency on our upper lip still comes back after a few days, and hair removal is just a tedious and never ending process.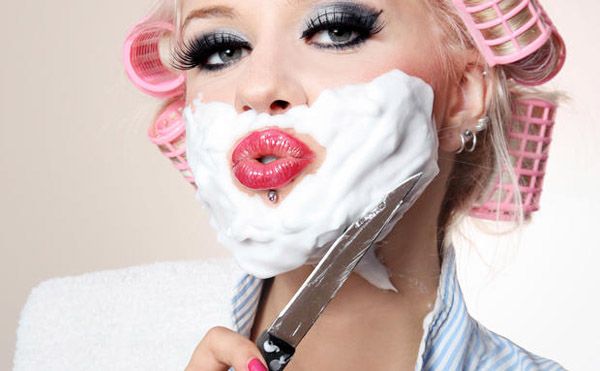 Credit: Woman.at
 Waxing, shaving and bleaching frequently irritates the skin and they aren't long term solutions to end the problem once and for all. We ladies want something to remove the unwanted facial hair, and yet not cause our upper lip area to breakout in rashes or be full of ingrown hair. 
Madonna, Credit: Bossip
Lucky for us living in the 20th century, there are many permanent hair removal methods available in the market. The availability of modern techniques, like Intense Pulsed Light (IPL), for permanent hair removal, is definitely a god send for the ladies who hate their girl moustache. 
IPL Hair Removal
Astique Clinic's IPL Hair Removal can permanently reduce or eliminate unwanted hair growth, not just on our face , but also on our underarms, legs, arms and back. IPL is the way to go for those of us who wants a permanent solution for our furry upper lips. You may need a couple of treatments to achieve the best results. 
However, do remember to go to a professional to get your IPL done. Always consult your aesthetic doctor first before deciding on the treatments.
Astique. The Aesthetic Clinic
350 Orchard Road
#08-00 Shaw House
Singapore 238868
Opening Hours
Mon to Fri: 11 am to 8 pm
Sat: 11 am to 4 pm
Sun and PH: Closed
Tel: 6732 3801 Hp: 9857 7892 Fax: 6235 0966

For bookings & general enquiries: enquiry at astiqueclinic.com.sg