The Start of a Beautiful Journey: "Smile. You're Beautiful!" Beauty Forum
Halley Medical Aesthetics | 5 May 2014
They say beauty lies in the eyes of the beholder. "So what is beauty?" asked Dr. Terence Tan, Director of Halley Medical Aesthetics at the "Smile. You're Beautiful!" beauty forum. Held on April 11 at Capital Tower, this event was jointly organized by i.Dental Surgeons and Halley Medical Aesthetics.
Dr. Tan emphasized to attendees that a doctor's sense of aesthetics is very important when selecting a doctor. He explained that while the definition of beauty is different across different countries and cultures, there are some similarities.
These include great wrinkle-free skin, a v-shaped face, 3D projection of the face, a well-balanced face, and a youthful appearance.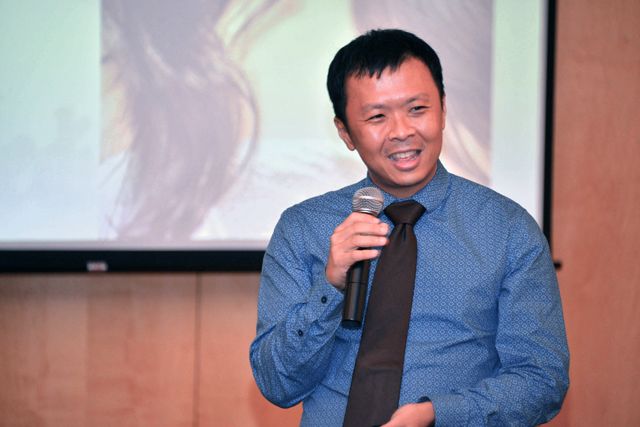 "Be sure to find out the doctor's definition of what is beautiful before you proceed," said Dr. Terence Tan of Halley Medical Aesthetics.
"These are things we can achieve with minimally invasive aesthetic treatments like Botox and fillers. There is no downtime and we can always get consistent results," said Dr. Tan. "There is no need for invasive plastic surgery like sawing away your jaw bones to achieve a slim, v-shaped face." Many people, he added, are able to achieve a more 3D facial profile – higher nose bridge, fuller cheeks, and sharper chin – with the help of filler. For a slimmer, v-shaped face, treatments like Botox® and Ultherapy are non-invasive therapies that yield good results.
Beauty in equal proportions
But what is a beautiful face without beautiful teeth? Beauty needs to come in equal proportions. We can achieve a youthful look and a beautiful face with medical aesthetics, but that slim, firm v-shaped face can be ruined by a set of crooked teeth.
"Why isn't Mona Lisa smiling in the painting?" asked Dr. Gwen Ho, Dental Surgeon with i.Dental Surgeons, who was the second speaker at the beauty forum. "It's probably because she doesn't have a beautiful set of teeth," she said, reinforcing the importance of a beautiful set of teeth in creating a good first time impression. She also highlighted the social and health impact of crooked teeth.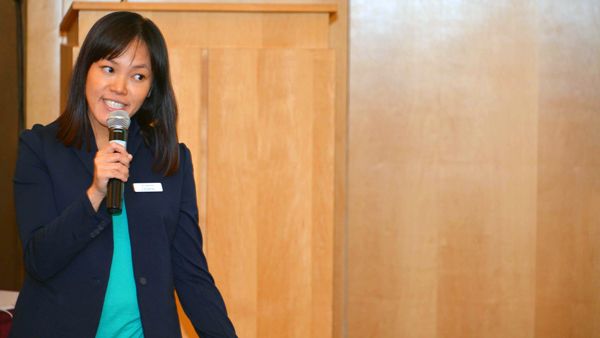 Dr. Gwen Ho reinforced the importance of first impressions by giving her take on why the famous Mona Lisa isn't smiling in the painting.
"Potential health problems include difficulty in brushing, which can lead to decay, gum disease, and bad breath," explained Dr. Ho. Other potential health problems include facial imbalance, cheek biting, worn down teeth, and jaw ache.
The final expert speaker of the event, Dr. Cheng Eng Wah, Principal Partner and Founder of i.Dental Surgeons and Ubi Dental Clinic then gave insight on the benefits of Invisalign. Invisalign is an orthodontic treatment that uses a series of clear, removable teeth aligners as an alternative to mental dental braces. i.Dental Surgeons is an Invisalign Platinum Elite Provider and is one of the highest Invisalign Treatment Submission Dental Practices in Singapore.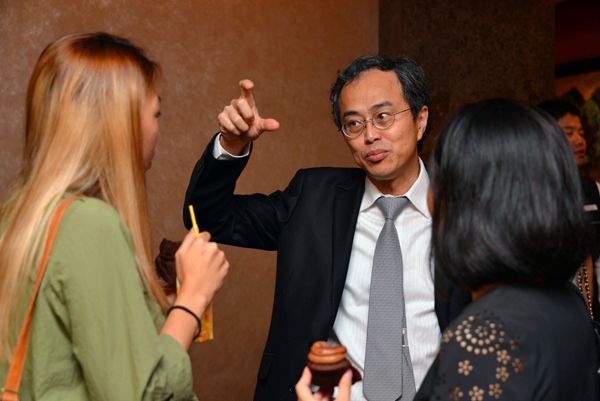 Dr. Cheng Eng Wah of i.Dental Surgeons addressing attendees' questions before the event.
While the almost invisible nature of Invisalign braces is one of the biggest draws of this orthodontic treatment, Dr. Cheng highlighted the many other benefits of Invisalign braces. "We can always do refinement and do mid-course correction of the patient's case to achieve the results that you want," said Dr. Cheng. "We can also treat almost any cases by combining other orthodontic methods."
Happy attendees going home armed with lots of new insight and goodie bags!
Although the event has ended, the journey has only started for participants of the "Smile. You're Beautiful!" forum as they use the insight gained to gift themselves a beauty makeover.
Halley Medical Aesthetics
248 River Valley Road Singapore
Singapore 238302
Opening Hours
10:00 am - 9:00 pm
Contact
Tel: +65 6737 8233
For more information, please go to:
Facebook:www.facebook.com/halleymedicalaesthetics
Website:www.halley.com.sg