What is Photofacial?
Assurance Skin, Laser & Aesthetics | 27 Aug 2015
Photofacial is also known as "photo rejuvenation". It is a skin rejuvenation treatment using pulses of intense light or laser light energy to stimulate new formation of collagen in the deeper skin while improving blemishes on the outer skin. It improves facial redness, fine blood vessels, pigmentation, skin texture and reduces pore size.
Increasingly, people are doing photofacial with OPTTM regularly at monthly or bi-monthly interval to keep their skin looking dewy and refresh!

What is the difference between OPT & IPL?
Optimal Pulse Technology (OPTTM) is an advanced and improved version of Intense Pulse Light (IPL). It is a safe and breakthrough technology from Lumenis, the inventor of IPL technology, with increase emphasis on patient safety.
How does OPT work?
OPTTM can be customised to your individual needs and skin type for maximum aesthetic results. Each light pulse penetrates tissue and creates a controlled destruction to the imperfections (e.g. unwanted hair, pigments and veins) while leaving the surrounding healthy skin and vessels unaffected. The body's natural process will then remove the damaged tissue from the treated area. Collagen stimulation occurs, and new cell growth in the deep skin layers results in a visible improvement of skin tone, texture and appearance.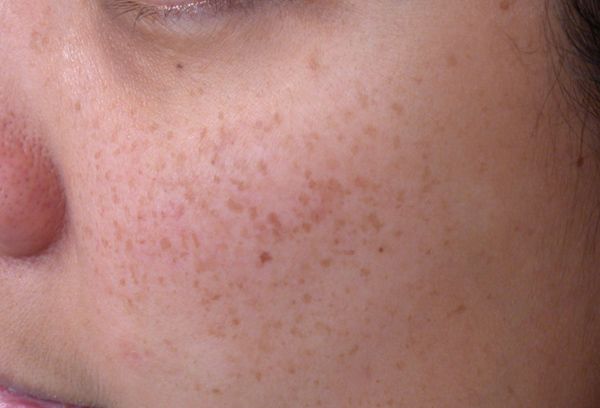 Freckles respond very well to OPT treatment
What can OPT treat?
Lumenis OPTTM is clinically proven to improve facial redness, pigmentation, photoaging and overall appearance. According to published data, physicians' rating of improvement of photodamaged skin after 3-4 OPTtreatments are as follows :
  — 81.3% improvements of unwanted blood vessels
  — 84.6% improvements of pigmentation
  — 98.1% of patients observed with improvements of photodamaged skin
  — 89.5% of patients were satisfied with OPTTM treatment
What is OPT treatment like?
During the treatment, patients are given protective eyewear, and a cold gel is applied to the treatment area. The OPT handpiece delivers precise pulses of light that penetrate and correct skin imperfections. Treatment time varies from 10-20 minutes, and a complete treatment program includes 2-6 sessions spaced over 3-to 4-week interval. Maintenance program involving monthly treatment can also be used to refresh and rejuvenate the face.
What preparations are required?
No changes to your normal routine are necessary, except to limit sun exposure 2-4 weeks both before and after treatment.
What should I expect immediately after treatment?
There may be a slight redness or blotchiness to the skin. This usually disappears after one hour. In most cases, makeup may be immediately reapplied if desired.
Which part of the body can be treated by OPT?
OPTTM can be used to treat any area of the body. The most common areas are the face, neck, chest, hands, abdomen and legs.
Assurance Skin, Laser & Aesthetics
Mount Elizabeth Novena Specialist Centre
#10-22/23, 38 Irrawaddy Road
Singapore 329563
Opening Hours
Weekdays: 9am to 5pm
Saturdays: 9am to 12.30pm
Sundays & Public Holidays: Closed
Contact