Why Do We Put on Weight After Marriage?
Astique Clinic | 13 Jun 2016
We go on diets and engage personal trainers to lose weight and fit into our wedding dresses because it is our big day and we need to look our best for it.  
Credit: Mummy Mundo
However, half a year into marriage and we seem to be singing "Let it go"like Elsa did. The pounds we shed came back to haunt us, with a vengeance. Not to mention the little bulge below our chin, on our little belly, and even at the armpits. 
Why do so many couples put on weight after marriage? 
1. Out of the "marriage market"
Once married, people tend to be less uptight about their appearance. Now that they are out of the dating game, they are no longer worried about not being able to find a mate and hence the less stringent workout and diet routines. 
2. Attempting home-cooked meals
It is your first home and you want to be cooking nice meals for your husband or wife. But we do know that it isn't exactly easy to portion out and cook for 2 people, especially for those who are new to cooking. We tend to cook too much while attempting to have a greater variety of dishes. And because we don't want to waste food and we want to appreciate our partner's efforts, most couples would try to finish all the food regardless of whether they are full or not, resulting in overeating.
Credit: Send Helper
 3. The TV
Couples spend time relaxing and snacking in front of the TV after a hectic day at work. But we also know that people have the tendency to eat more since they are more focused on what is happening on screen. Furthermore, they spend a longer time eating, leading to weight gain.
Credit: Central Rent to Own
4. Couples do things together 
When one partner wants supper, the other partner who didn't crave for any food might end up joining in, just because they want to do things together. Or when your husband asks you join him to sleep in for the weekend, it is easy to roll over and skip your morning workout.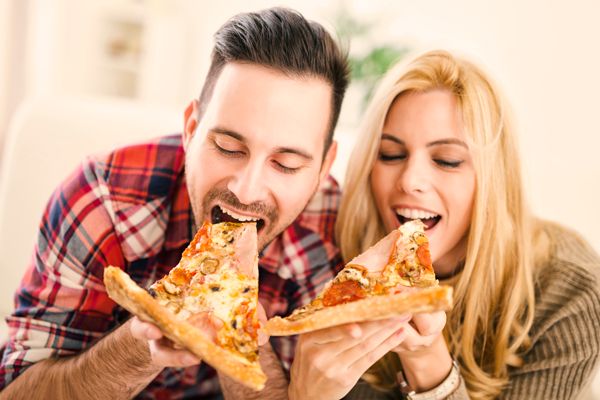 Credit: Broken Stone Pizza Co
How to stop the weight gain 
The best part about being married is that you guys are now living together.  Couples can motivate each other during workouts and it is so much easier to have your husband or wife as your workout partner than having to ask a friend to join you. The same goes for your diet. So instead of sinking into the unhealthy habits together, why not eat healthier, and work out together for the best of your health?
Credit: New Love Times 
However, there are just those stubborn bulges that wouldn't go away no matter how hard you try. Your figure just wouldn't return to the pre-marriage days, and getting older does not make things any easier.
CoolSculpting
If the stubborn belly fats and sagging double chins just refuse to go away, it may be time to seek professional help. Astique Clinic's CoolSculpting is suitable for those who have a stable, healthy weight but find it hard to get rid of fat bulges in areas like the tummy, flanks, "bra"/back fat, arms and thighs. If your concerns are smaller areas like double chins or armpit fats, CoolMini, which targets small pockets of fats with its smaller applicator, may be more suitable for you.
Always seek the advice of a doctor before proceeding with any forms of treatment. 
Astique. The Aesthetic Clinic
350 Orchard Road
#08-00 Shaw House
Singapore 238868
Opening Hours
Mon to Fri: 11 am to 8 pm
Sat: 11 am to 4 pm
Sun and PH: Closed
Tel: 6732 3801 Hp: 9857 7892 Fax: 6235 0966
For bookings & general enquiries: enquiry at astiqueclinic.com.sg
Our Panel of Doctor's Services
DR Celine Leong, Astique Clinic
CoolSculpting, $599
The only FDA approved targeted fat freezing treatment in Singapore!
350 Orchard Road, #08-00 Shaw House, Singapore 238868