[Blogger Jean Gan] Look Younger with Sculptra Treatment!
Celevenus Aesthetic & Wellness Clinic | 6 Oct 2013
[by Blogger Jean Gan]
If you have been following me on my facebook page or have been reading my blog, or through my pictures, you would know that my face shape is not very ideal. My cheeks are quite sunken in due to the weight lost from puberty and my recent weight loss as well.
This was how I looked like pre-puberty. I know, it doesn't look like me at all and looks as if I've undergone the knife, but no I didn't. I just lost weight and learnt the beauty of make-up that's all. HAHA!
I have lost about 3kg recently which is not really a big deal, but it shows on my face.
As you may have already known, not everyone loses weight the same way as others. For myself, I lose my fats on my cheeks relatively quicker than the rest of my body parts, as well as my tummy. But it is a common problem that most ladies find it difficult to target spot areas on arms and thighs.
The truth is, you can't.
After losing weight, you may have already lost fats and muscle mass, which in result causes flabs.
That is why you see flabs on your arms, thighs and stomach.
Hence, both cardio (lose fats) and toning (muscles strengthening) are equally important and should work simultaneously.
After wearing braces for about 6 months, my protruding jaw has been pushed back, though I would not say it is 100% successful. However, this could also be due to my skeletal structure and shape.
As I have sunken cheeks, naturally the mouth and jaw area would seem to protrude.
You can that my front view profile :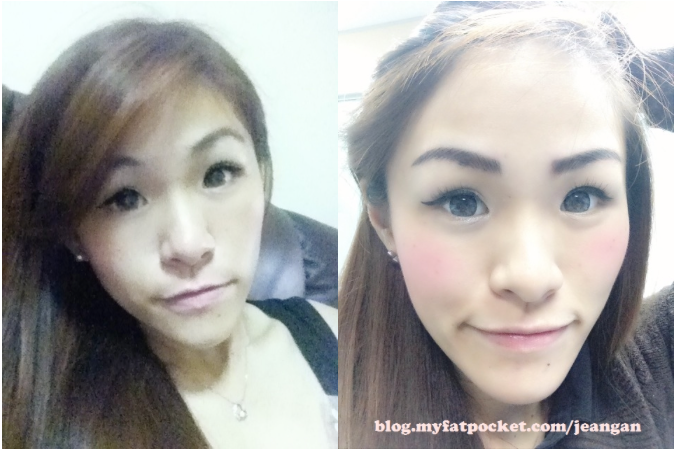 And it looks worse when I don't smile :
My side profile is worse, especially with the protruding jaw. The sunkenness is more obvious when viewed from the side.
However, as a resident blogger at MyFatPocket, I was very fortunate to be given the opportunity to try out Sculptra treatment with Dr Dylan Chau, who is a Sculptra trainer for other doctors, from Celevenus Wellness & Aesthetics Clinic.
What is this treatment about?
To summarize, it is a type of filler, injected with l-poly-lactic acid to help stimulate and encourage facial growth via natural collagen production. By 'natural', it means that the collagen formed comes from your own tissue. Besides being able to achieve facial volume, Sculptra is also able to target other common areas due to loss of facial volume and ageing problems such as wrinkles, folds and skin laxity.
Extracted from Celevenus Wellness & Aesthetics Clinic, these are the common problems that Sculptra can help treat.
Sculptra is suitable for:
- Deep folds between the nose and the mouth (nasolabial folds) also called smile lines
- The lines framing your mouth (marionette lines)
- Sunken & droopy cheeks
- Sunken temples
- Eye bags & dark eye circles caused by sunken tear troughs
- Skin laxity
As for my case, due to loss of facial volume, my cheeks are not only sunken, I have nasolabial folds too which I suspect is a combination of not only loss of facial volume but also dehydration and ageing. Yes, sadly I have already reached the age where ageing has commenced. :(
Having sunken cheeks is really unsightly because not only it makes you look haggard and older than you really are, you look tired as well. Also, my jaws a quite angular which Dr Dylan did comment that angular jaws result in a more masculine appearance. Femininity should include a more rounded apple cheeks. Just think about Fann Wong and her rosy high apple cheeks.
But please note that Sculptra may not achieve high cheeks like hers because it is dependent on many other factors such as your skeletal structure, your own tissue to produce collagen etc.
Similar to other filler treatments, injections and needles are involved and it is best to get someone to accompany you for reasons below.
There will be some pain, blood, swelling involved and each individual's body may response differently.
You may need comfort and assurance from someone you can trust...by squeezing their hand. I think I'd almost broke my bf's bones...LOL!
Although there will be numbing cream applied prior to treatment, the filler itself contains some dosage of local anesthetic, so you will feel drowsy. That was also the reason why I looked so 'sian' in the pictures, half way throughout, I was very drowsy. But the condition will subside shortly after the treatment and does not affect daily activities.
Firstly, if you'd applied makeup, they will help remove it and then apply numbing cream first. After letting it set for 30 to 60 mins, you will then be called in for the treatment.
During the waiting time for the numbing cream to take effect, you can actually wait at the small lounge or just wait outside at the reception. Don't worry, there will be many others who will have creams on their faces as well, so in that context, you will still look 'normal'.
Then the treatment would take place.
Was waiting for Dr Dylan's arrival and chatting with MyFatPocket's Editor Bianca Zen and my boyfriend :) And trying to stay calm...
Prior to the day of the treatment, I have consulted and cleared my doubts before agreeing to be treated. So do clarify every single doubt you have, especially since it involves needles and it's your face we are talking!
And off we proceeded with the treatment!
There were be loads of injections poking here and there so do be warned. It is still bearable but still good to have someone's warm hands to hold...and squeeze. They would also provide stress balls should you not have a hand to squeeze. But I prefer squeezing my boyfriend's hand... :P
After one side of my face was done, the drowsy effect started to kick in.
In this picture, I was already done with my left side. Can you see the difference between the two sides? One sunken and the other more plumped up? Besides my plumped up cheeks, my laugh line and nasolabial line on the left are less obvious and prominent.
After treatment :
As the liquid substance is injected into your skin, you will need to constantly massage them as previously mentioned to prevent lumps from occurring.
There will be a massage session by their staff. Also you will be required to massage daily 5 times for 5 mins for the next 5 days.
The staff at Celevenus will advise on the correct method and motion of the massage.
Post-massage :
This is how I looked for the next few days :)
Yes, there will be little bumps because of the injection holes but I guess can be covered by makeup, so not to worry.
I wasn't really getting used to the 'new look' as first because afterall, I've lost most of my cheeks since puberty...
It was weird seeing these 'old friends' of mine and best thing is, I can see my cheeks when I look down! LOL!
So, which do you think looks better?
Before:
After :
And of course, there will be bruises. My bruises were considered relatively better than other patients but they lasted for quite long. This also varies individually, especially if you are the type who bruises easily... I was advised to avoid taking omega-3 and aspirin as the latter thins the blood. In addition, using a heat pad or something warm to press against the bruises would help. I made a mistake by using ice on the bruise but ice should be used to cool and calm down angry swells and not bruises. You may also google on how to reduce the bruises. :)
But your temporary best bet would be makeup. Concealer and foundations would come in extremely handy to cover them up should there be a need to. If possible, perhaps taking a few days off from work would be good.
After 3 weeks post-treatment, this is my latest look :
Do not be alarm should you see a decrease in facial volume or if your face reverted back to its original form because one session is definitely not enough.
The facial volume might have been lost but my nasolabial folds around my mouth have reduced significantly. I am impressed with such effect despite only undergoing 1 session!
Depending on the desired result and severity of the conditions of each individual, it is recommendable to complete 2 to 4 sessions in order to achieve the optimum result that can last for more than 25 months!
As with other fillers, the substance is dissolvable and will be broken down via your own body's metabolism. This is normal so don't worry.
I will be going for my second session in December and hopefully I will look better and younger by Christmas (taking into account the recovery for bruises).
Yay to younger looking skin! :) Thank you, MyFatPocket!
Celevenus Wellness & Aesthetic Clinic
391B Orchard Road #16-03/04 Ngee Ann City Tower B
Singapore 238874
Opening Hours
Mon to Fri: 10:30am to 7pm
Sat: 10:30am to 3pm
Closed on Sundays & Public Holidays
Tel: +65 6410 9621 / +65 6410 9622
Fax: +65 6410 9623
For bookings & general enquiries, please call 64109621 or email This e-mail address is being protected from spambots. You need JavaScript enabled to view it
Website: www.celevenus.com.sg