UPDATE: 1 Month Later. [Editor's Review. Viewers Discretion Advised] Innofill Procedure Live Demo at Mifamoon Dermatology Clinic in Seoul, Korea [Video]
Mifa Moon | 23 Jul 2013
[By Bianca Zen]
UPDATE: Jump to end of article to see progress after one month since Innofill procedure.
A virgin for minimal-invasive procedure called Innofill procedure, I was documented as I lay unconscious at the operating table at Mifamoon Dermatology Clinic in Seoul, Korea.
They say 30 is the new 20. Physically, I don't feel or look that way.
Wrinkles, you are a bunch of inevitable fools. Weight, you always seem to increase no matter what I do. Age, you are never welcome but you always come my way. Skin, I am losing you and you are getting loose.
Trusting my pockmark face in Dr Moon's good hands.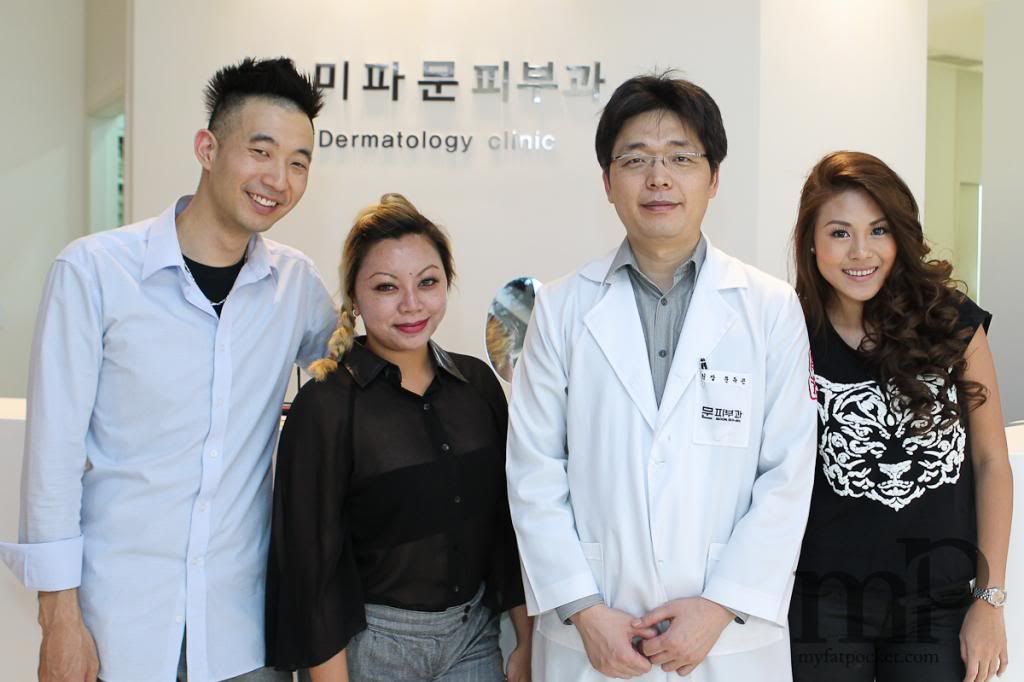 Keith Kim from Seoulistic, Bianca Zen, Dr. Moon Deug Gon and Chanel Choo.
So when we were planning for our trip to Seoul, I wrote in to one of the best dermatologists in South Korea, Dr. Moon Deug Gon. I told him as a matter of fact – complete with my mugshots – and said:
"I am open to procedures such as:

Buccal fat removal and facelift to tighten the loose skin
Nose reshaping (especially the large nose wing)
Chin implant via fat grafting from tummy and or thigh
Liposuction on arms, thighs, tummy
Botox on jaw muscles and fillers on chin
My facial problem areas are my pockmark skin from acne, large nose wing, double chin, eyelid fats and droopy chin (excess buccal fats) I am open to any procedures as long as it does not affect me from working while in Seoul."
I basically left my face in Dr. Moon's good hands. And he suggested Innofill procedure. Sure I may sound as daring as the devil when I say, "Sure thing. Anything that is best for my face," I was secretly nervous. Nervous not because of anything else but nervous because I have never heard of Innofill before!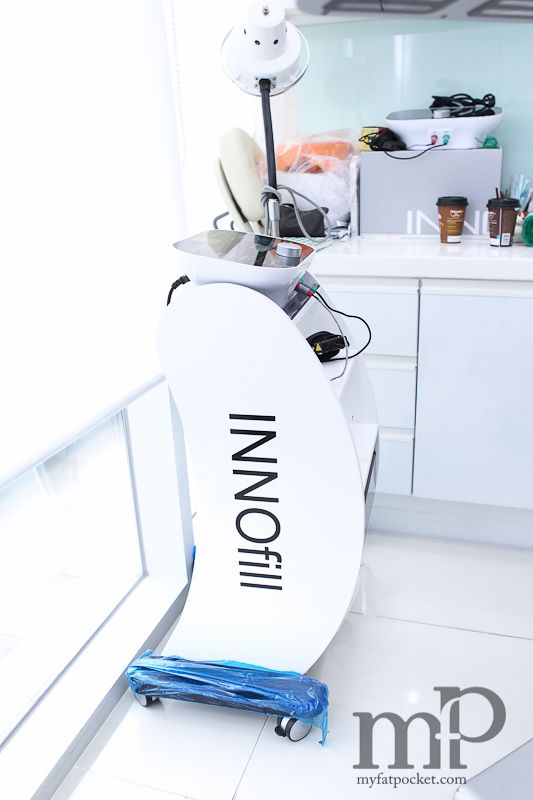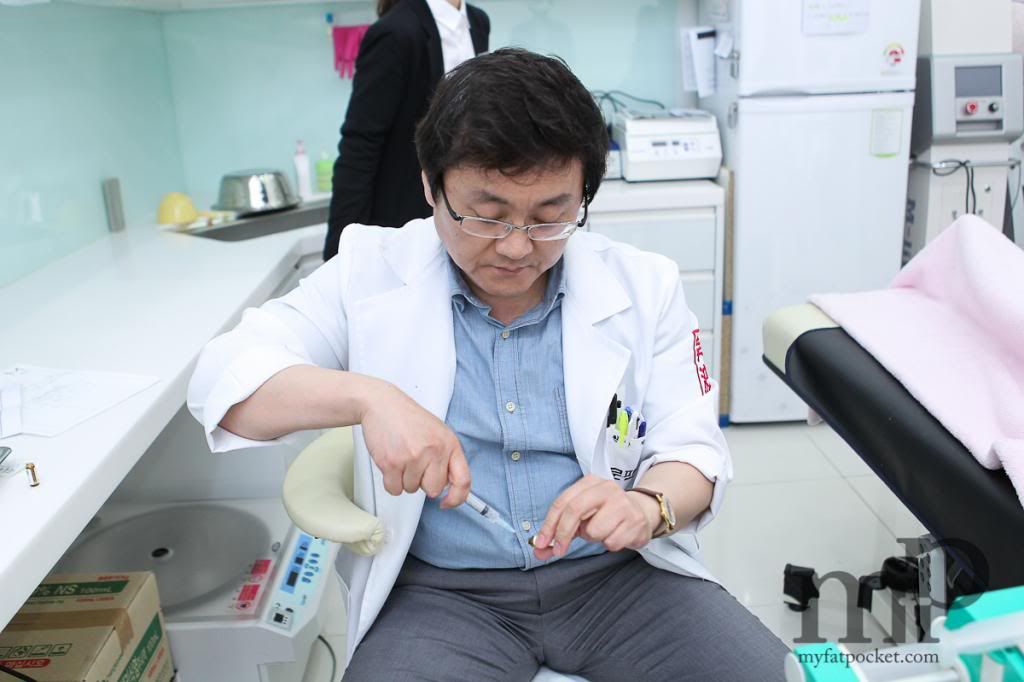 Unlike many other dermatology clinics in South Korea, Mifamoon Dermatology Clinic has a dedicated anesthesiologist.
Dr. Moon mentioned that Innofill comprised of Filling, Lifting and Smoothing. I was asked to skip breakfast because I have to take the treatment with anesthesia. Nervous much? Very.
June 2013. I was introduced to Skin Botox and Innofill Procedure.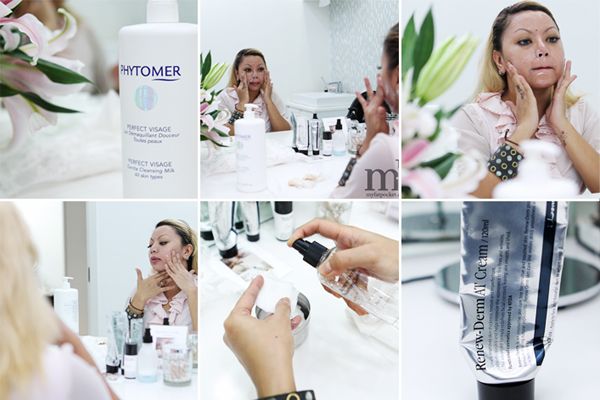 Removing makeup off before consultation
1045am. The nerve reckoning hour as we stepped into Mifamoon Dermatology Clinic.
Keith, our co-host and translator, was there to ensure that I understood each step I have to take for the procedure. Hermann was there to document each process and Chanel, being a friend and also a host for the travel documentary, was a comforting figure.
When Dr Moon walked into the room, you could actually feel the presence of a trusted doctor.
Hong Yin Jiu, Manager at Mifamoon Dermatology Clinic as well as Translator for the Chinese patients.
The nerves calmed down a little. He was spot on to notice that I had Botox and Dermal Fillers done before. Nothing leaves his eyes. He even know how wide I smile and laugh(!)
He also advised me to curve a Korean smile.
What is a Korean Smile?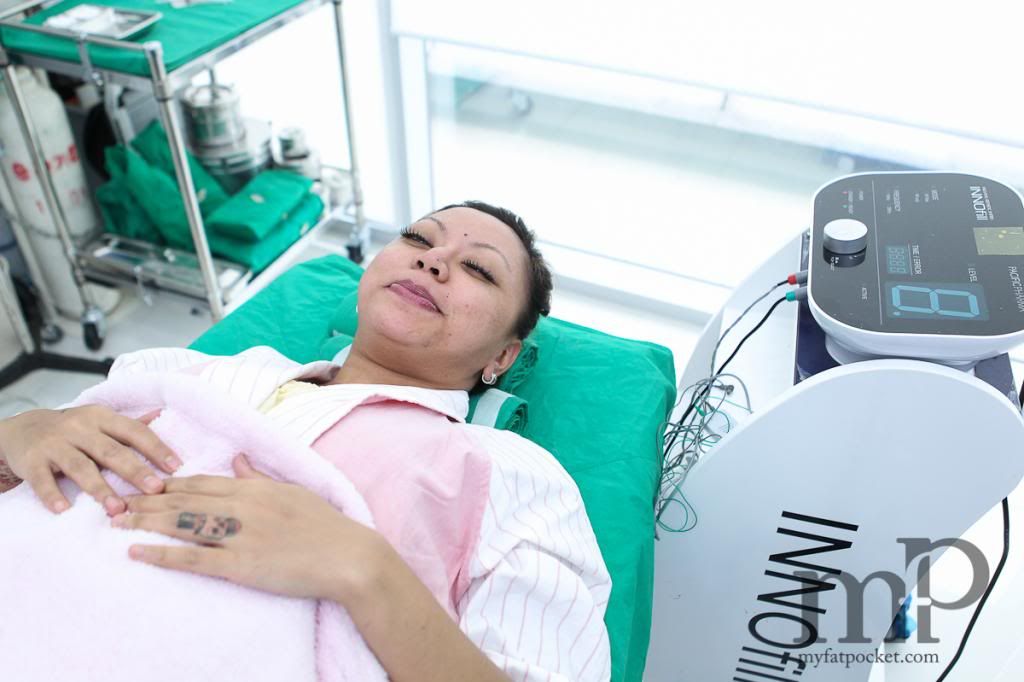 This is not the traditional culture where Koreans are not allowed to smile – in fear to be taken lightly – so as to maintain his or her demeanor of a grave countenance. A Korean smile, in the Doctor's term, is to smile lightly and small, so as not to work your muscles up and thus speeding up wrinkles and laugh lines.
When you don't work your smile lines, you will not stretch too much nose muscles and your tip of your nose will not droop.
Interesting aye?
And so the Skin Botox and Innofill Procedure began…
I need to be honest with you. I did feel ugly the first few hours after.
I felt like the character from Angry Bird. You know the pigs that you catapult the angry birds to kill? I felt like the pigs - my face was big, round, chubby and very swollen.
I can see the marks from the skin botox injections all over my face.
I looked like a grid paper.

One week after, I see change.
I saw so much improvement. Perhaps it is psychological but I gained so much confidence that I chopped my long hair very short. I walk with my head high up now, confidently tucking the flyways behind my ears proudly showing my whole face (shape) to the world.
Dr Moon mentioned that the face will completely heal in a month. I am still counting down days in excitement and anticipation.
Mifamoon Dermatology Clinic is a medical institution designated by the Ministry of Health & Welfare of Korea to attract foreign patients. And with my first hand experience of the procedure, the level of professionalism and astute knowledge of the good Doctor himself and most importantly, the confidence restored that came with the amazing result, I couldn't agree more.
Thank you Dr Moon for the most heartfelt and utmost grateful birthday present anyone has given me.
Happy 30th Birthday to me!
Oh by the way, few hours after my treatment, I went for one of the best Korean lunches. Seunga from Mifamoon Dermatology Clinic brought us for beef bbq lunch at Nonhyun area at Bongalbi. Swollen face or not, the lunch was delectable!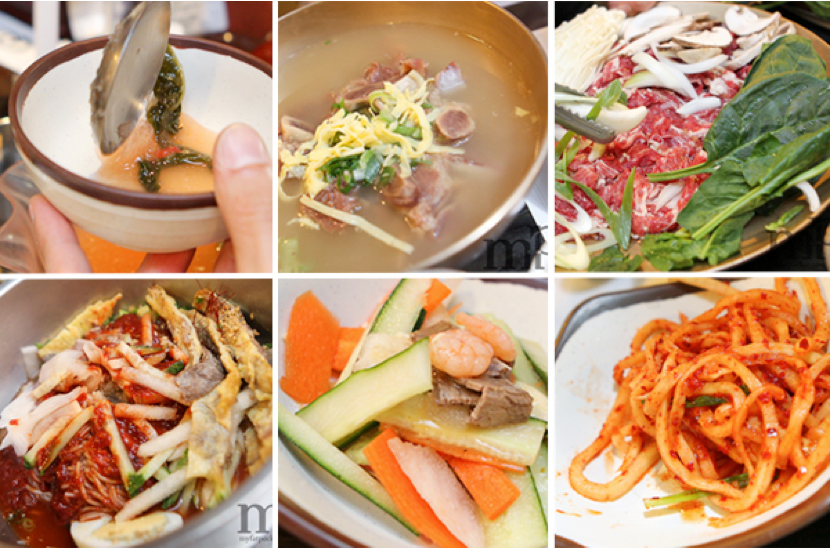 One month since the Innofill procedure at Mifamoon Dermatology Clinic
My skin is smoother and significantly smaller. My face feels tight and supple.
I feel like a woman. A confident and modern one at that.
Mifamoon Dermatology Clinic
5F, 468 Gangnamdaero
Gangnam-gu
Seoul, Korea
Opening Hours
Mon and Fri: 10am to 9pm
Tue, Wed and Thur: 11am to 8pm
Sat: 10am to 4pm
Sun: 12pm to 5pm
Tel: +82 2 564 2065 or +82 2 569 2063
Fax: +82 2 561 2064
Clinic Profile: Mifamoon Dermatology Clinic
---
Related Articles and Videos on our trip to Seoul, Korea:
1. Indepth of Aesthetics and Plastic Surgery in Seoul, Korea by Key Opinion Leader, Professor Beom Joon Kim [Video]
2. Korean Author, Jeong Suhyeon, Talks about her Book, Face Shopper, and how Women can now Shop for a New Face, at iLomys Showroom [Video]
3. Aegyo Sal, Plastic Surgery & Aesthetics Enhancement Prevalent on the Streets of Apgujeong, Seoul [Video]
4. Interview with Mikyung Song, Platelet Rich Plasma procedure (by Dr Moon) Patient at Mifamoon Dermatology Clinic [Video]
5. UPDATE: 1 Month Later.[Editor's Review. Viewers Discretion Advised] Innofill Procedure Live Demo at Mifamoon Dermatology Clinic in Seoul, Korea [Video]
6. How South Koreans take their Beauty Products Seriously
7. Fashion Spotting in Garosugil, Seoul, Korea
8. Not only a Beauty Mecca, the Winds of are Blowing the Worlds' Interest to the Streets of Seoul, Korea for Fashion
---