7 Women Get Real About What It Feels Like to Get Laser Hair Removal
Aesthetics Hub | 8 Nov 2017
When it comes to hair removal, there are numerous options available from shaving to waxing. But in recent years, laser hair removal has also become a popular option for removing unwanted hair—in fact, it was one of the most popular nonsurgical cosmetic procedures in the United States in 2016, according to data from the American Society for Aesthetic Plastic Surgery. It's also expensive and intimidating—going to an office to literally get hairs burned off of your body with a laser? It's a little crazy when you think about it.
Credit: Getty Images
Have you been thinking of doing laser hair removal but feel scared it may hurt? Or perhaps you aren't sure what to expect? We talked to seven women to find out what laser hair removal really feels like. Read below to learn the truth about their personal experiences from the good to the not-so-smooth to the downright hairy, er, scary.
Credit: CHRISTINE FRAPECH
"I've actually had laser hair removal a couple of times. The first time was on my neck and sideburns and it was at a spa. I had about six treatments, and the hair mostly came back. I later found out that the lasers at spas (for the most part) are much less effective than the ones in dermatologists' offices. I recently decided to go back under the laser in a dermatologist's office. It had been awhile since my first experience, so I didn't remember what to expect. This time I got my neck, sideburns, upper lip, chin, and bikini line—I went all in. To be honest, it didn't really hurt, not even on my face! The machine blows some cool air right after the laser so it doesn't stay hot very long and in my head, I kept saying 'temporary pain, permanent results' and it got me through. I've had only two treatments so far, and I've already seen a much bigger difference than when I went to the spa. I definitely recommend this to anyone who is a good candidate." —Dana Q., 33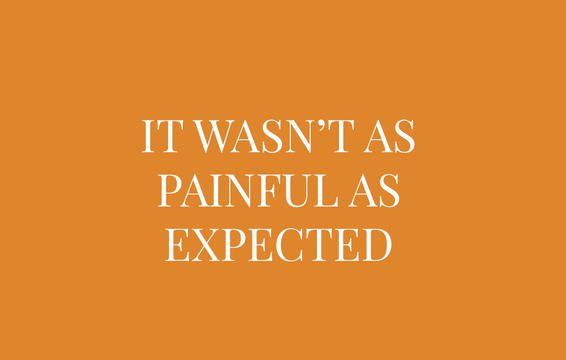 Credit: CHRISTINE FRAPECH
"I went into my first appointment literally shaking. I had been burned both physically and emotionally by waxing so I was apprehensive of laser hair removal. I was pleasantly surprised though. Don't get me wrong—it still hurt to have hot laser shot at my bikini line, but it definitely wasn't as painful as I imagined it to be." —Claudia O., 23
Credit: CHRISTINE FRAPECH
"As a woman of color, I was so scared when I tried laser hair removal for the first time because I had heard horror stories of women getting burned with the laser picking up the melanin in the skin thinking it was hair. But after some research and making sure they had the right lasers, I'm so glad I put my fears to the side for a lifetime of fuzz-free skin. A couple zaps here and there over a course of six months did the trick. It literally feels like small zaps. After each treatment, they applied a serum to help with mild irritation. Within two visits, I was already seeing results and I was hooked! I highly recommend laser hair removal to anyone considering it." —Eileen A., 37
Credit: CHRISTINE FRAPECH
"I've been getting treated for laser hair removal for about a year and a half. Every 10 weeks, I get my legs fully lasered, thigh, calves, everything. I have a relatively high pain tolerance, but I really don't think the treatment hurts at all. I would describe it as quick pinches with a slight burning sensation. The 'pain' only lasts for about a second, so by the time you even notice it, it's over! Your skin is supposed to react to the treatment, which means that it is working. So for 24 hours after getting treated, I have red bumps around my legs but it's not too noticeable unless you really look close! Sometimes it gets a bit itchy, but honestly, it's nothing that bothers me too much. The results are truly worth it. While people think laser hair removal is permanent, it's definitely a continuous treatment. For the first six to eight times, you will find yourself still needing to shave, but the hair grows back slower and slower." —Emilie S., 25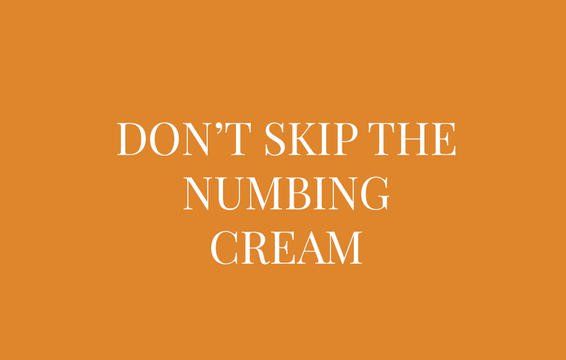 Credit: CHRISTINE FRAPECH
"Laser hair removal feels like an elastic band snapping at every little hair on your body. I highly recommend using the numbing cream they suggest. Don't do it without support supplies. Like childbirth, you forget what you went through because life without having to shave legs, armpits and private areas is well worth temporary 'labor' pain." —Daniella C., 48
Credit: CHRISTINE FRAPECH
"I didn't know what to expect during the first treatment. The esthetician started with a lower setting to do my underarms. I am pretty good with pain so I didn't use any numbing solution. It felt a bit like an electric zing halfway down my arm. Some places I couldn't feel as much but the darker the hair, the more pain I felt. As I lay there, I was slightly thinking 'I hope I am not doing something damaging.' As I continued to go for treatments every six weeks, sometimes the hair seemed less than others. The esthetician kept raising the strength to get more hair and that's when it started to feel more like a lightning bolt than a zing. I also felt tingling a little after, but it was definitely manageable. After the eighth treatment, the esthetician said my hair was stubborn. I had high expectations for it to all be gone in eight treatments, but unfortunately it was not." —Dawn R., 38
Credit: CHRISTINE FRAPECH
"I've had laser hair removal on my upper lip, underarms, and bikini area. During the process, it felt like a tingling sensation, and afterwards, it felt like I had a bad sunburn. They recommended me to use Polysporin for any potential scabbing, which luckily didn't happen. I ended up skipping the follow-up treatments and eventually my hair grew back." —Lisa B., 35
By Crystal Tate