How to Fix Sun-Damaged Skin, at the Doctor's Office or the Drugstore
Aesthetics Hub | 23 Aug 2018
Here are the latest options to smooth your skin, treat spots, and prevent future sun damage—whether you want to visit a doctor's office, slather on a serum, or try glitter sunscreen (yes, that's a thing).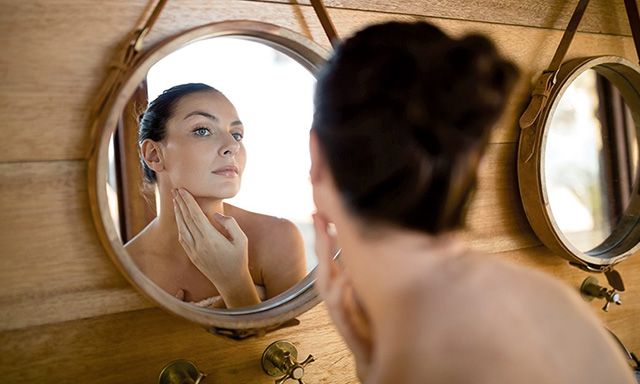 Can piercing your face with tiny holes or slathering it with plasma undo the harm of too much tanning? Photograph by Wavebreak Media/Offset.
Ah, the 1970s—that carefree, golden age of bronzed skin and Coppertone ads promising "the tan people notice." Fast-forward 40 years, and we now know not only that there's no such thing as a "healthy tan" but also how dangerous tanning is, with rates of melanoma—the deadliest form of skin cancer—almost tripling from 1975 to 2015. And while suntan lotion is out and sunscreen is in, that doesn't mean your skin forgot about all those oiled-up days by the pool—or will forgive you for continually baking in the sun even while wearing SPF 50.
"Every time you tan, you're damaging your skin, you're increasing your risk for skin cancer, you're aging your skin," says Dale Isaacson, a dermatologist in downtown DC.
The good news is that treatments can undo some of the harm caused by the sun, which is called photodamage and might include wrinkles, roughness, or unwanted pigmentation. The caveat: Skin damage can result from many factors, including age and lifestyle choices such as smoking, so the type and duration of treatment are going to vary.
Here are the latest options to smooth your skin, treat spots, and prevent future sun damage—whether you want to visit a doctor's office, slather on a serum, or try glitter sunscreen (yes, that's a thing).
Needling Away Sun Damage
While it might seem like the latest fad in skin care, microneedling traces its roots to China centuries ago, where the idea of piercing the skin as a treatment began as acupuncture. Using hair-like needles to puncture the face is "basically like aerating a lawn," says Isaacson. "You're taking a pen-like device that has teeny-weeny needles that penetrate the skin at various depths. It's gyrating 1,000 times per minute, putting little puncture holes all over the face. Then your body perceives those as wounds and heals them like it would a scraped knee."
The needles pierce the outermost layer of the epidermis, prompting cells called fibroblasts to flood the wound and turn into collagen, plumping out fine lines while tightening pores, which can grow larger from sun exposure due to collagen breakdown on their edges. Microneedling is also beneficial for brown spots, says Isaacson—over time, a treated spot disappears, revealing new, unblemished skin underneath.
Downtime is minimal, with most patients experiencing redness for two to four days; some heal in as little as 24 hours. Results continue to improve over six months as collagen production proceeds. Some patients need only one 15-minute session, while others require a few—it depends on the degree of damage.
To really up the glow, Isaacson's office now combines microneedling with a platelet-rich plasma (PRP) treatment. Platelets—which make up the blood along with white and red blood cells—are rich in growth factors that further stimulate collagen production. Isaacson draws a patient's blood and spins it in a centrifuge. This causes the PRP to rise to the top; once separated, it's slathered on a patient's face before microneedling. According to Isaac­son, using PRP with microneedling increases collagen production by 40 percent, more than microneedling alone.
Full-face microneedling costs $400 per treatment; with PRP added, it's USD$700.
Lasers: Popular for a Reason
They might not be the new kids on the block, but lasers remain popular for one reason: They work. Whereas older lasers used to leave a face a "raw, bloody mess" for up to two weeks, says Isaacson, "nowadays, people don't want the downtime."
Lasers work by turning wavelengths of light energy into heat, which penetrates the skin and stimulates cells to produce collagen. Isaacson uses the Fraxel Dual laser system, which was FDA-approved in 2013 and targets sun-damaged skin. It's actually two lasers in one—by adjusting its wavelengths, a dermatologist can treat fine lines, wrinkles, or pigmentation. The 1927 wavelength hits the surface layers of skin, making it good for pigmentation, says Chicky Dadlani, a dermatologist in McLean who considers the Fraxel Dual "the best" for sun damage. While the 1927 treats the superficial layer of the skin, the 1550 wavelength more deeply penetrates to stimulate collagen and fill lines and wrinkles.
Some people experience redness or swelling for the first two days. Dadlani suggests that those who need to put on cosmetics use mineral makeup, which doesn't clog pores. After four or five days, a layer of skin will shed. Depending on the area treated, sessions last at least 15 minutes. The cost ranges from USD $1,000 to $1,500, depending on the office and number of visits. It usually takes five to six treatments to see results with fine lines and wrinkles; for pigmentation, it's one to two.
By Kim Olsen