I Tried Platelet-Rich Plasma Injections on My Stretch Marks — Here's What Happened
Aesthetics Hub | 23 May 2018
Let's get one thing straight: I love a good PRP treatment. There's just something about using your own blood in PRP injections to repair and regenerate growth.
Credit: Shutterstock
Take it from someone who has hopped into a dermatologist's chair for a PRP facial, more commonly known as Kim Kardashian West's "vampire facial," a PRP breast-lift (yup), and even a PRP O-Shot (the [ultimate treatment] for the best orgasm of your life). So, after seeing how PRP was able to give me baby-soft skin; fuller, perkier boobs; and the ability to come from penetration; when I learned that the magical blood-based treatment has been known to minimize the appearance of stretch marks as well, I figured, why not?
If all the tri-lettered talk has you scratching your head, allow me to explain. PRP, short for platelet-rich plasma, is derived from the serum portion of the blood, which contains platelets, says Beverly Hills-based dermatologist Ava Shamban. "The platelets contain high levels of growth factors, which, when applied to the skin, stimulate cell turnover." Before it's applied topically to the skin, the blood is spun in a centrifuge, where your platelets are separated from your red and white blood cells.
Platelets, known for their high concentration of growth factors, have been used in sports medicine for decades, and recently (in the past decade or so) entered into the world of beauty. What started as a facial quickly turned into O-Shots, breast-lifts, butt-lifts, lip augmentations, and, most recently, stretch-mark rejuvenation. And with that information, and my own PRP treatment history under my belt, I reached out to Marina Peredo, a dermatologist and an associate clinical professor of dermatology at Mount Sinai Hospital in New York City, to tell me more.
"PRP is a great, non-invasive treatment for stretch marks because it helps generate the production of new collagen and elastin," Peredo tells
With that information, a bit more of my own research, and the understanding that millions of people across the world are constantly on the lookout for effective ways to camouflage stripes associated with growth spurts, pregnancy, and rapid weight gain and loss, I made an appointment to see for myself if PRP for stretch marks is really worth the hype.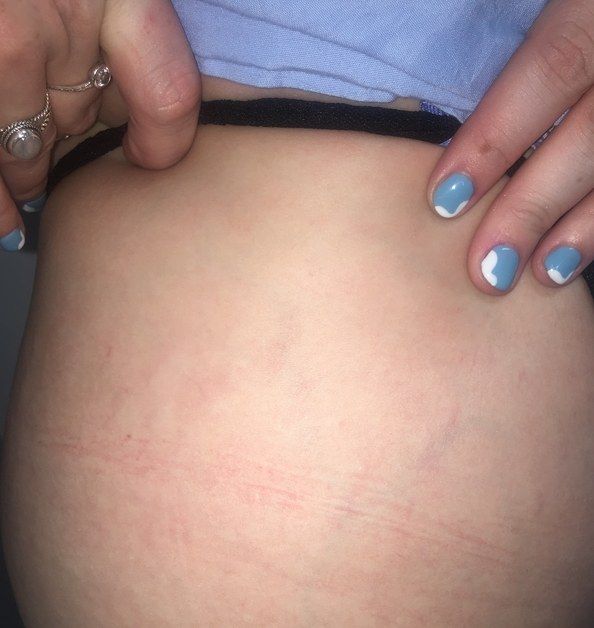 A close up of my purple-tinted stretchies. Credit: Rebecca Norris
After about 20 minutes she came back with a vile of translucent PRP, pinpointed my stretch marks — which ran from my hips down toward my butt as a result of rapid growth, thanks to a new prescription I both had faith in and swore against all within a few months (PSA: Always ask about side effects, y'all) — and got to injecting. The actual process was pretty painless, with just a few pinches here and there. The only real pain afterwards came from my bruised elbow crease which, in all honesty, was my own fault because instead of applying lots of pressure as instructed, my main attention was on capturing the moment for my story. So, sue me.
Apart from pain, let's talk appearance. Post-procedure, I noticed itty-bitty bruises at all the injection sites on hip and butt areas — nothing major. Over the next few days, those bruises faded, but something else happened. And no, it wasn't full disappearance, instead it looked like my faded, barely there, purple-tinted stretchies had turned full silver.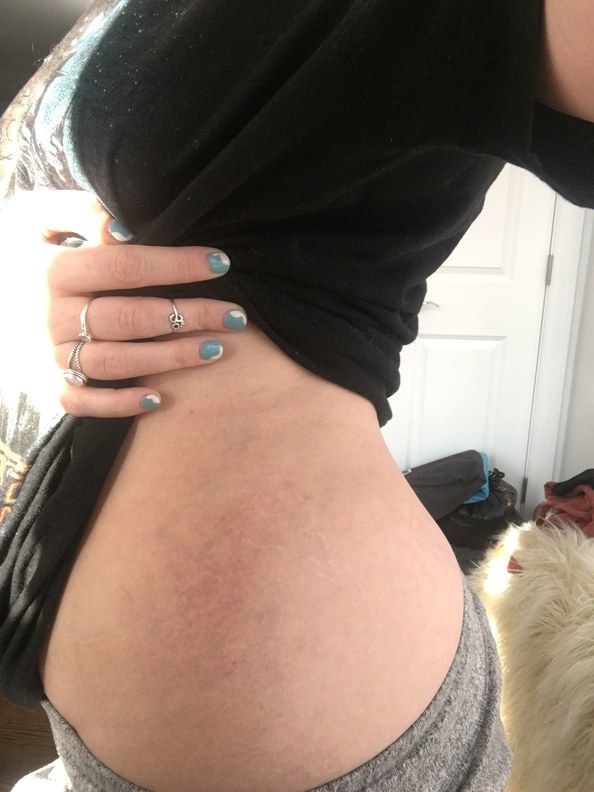 The appearance of my stretch marks one-week post-procedure. Credit: Rebecca Norris
Now, if you're wondering why I would get injected to begin with then, I simply thought it'd be pretty rad if this treatment, which I love for so many other skin-care concerns, could be a solution for people near and far hoping to ditch the cover-up. After all, I'm an avid beauty writer and firm believer that just about anything, so long as it's not harmful, is worth it for a good story. Point is, don't gasp at a procedure that doesn't turn out they way you want, simply learn from it instead.
That's what I did at least. As soon as I started to notice my stretch marks changing color, I sat down with my pal Google to see what was up. I learned that PRP, while frequently touted for stretch marks, is actually only beneficial if injected while they're still super fresh. According to Patricia Wexler, a New York City dermatologist, that's because platelets can only supply growth factors wherever healing is initiated.
"Unless healing is still going on within the stretch marks, the injected PRP may not be able to produce excellent results," Wexler says. "That's why injecting PRP in fresh stretch marks can work, but will do much better in the presence of microneedling, where we create an active wound made by the needles to activate the PRP growth factors, therefore boosting the production of collagen."
A close-up view of my transformed stretch marks one-week post-procedure. Credit: Rebecca Norris
This could explain why mine, which developed a few months ago and had already started to fade from a fresh burgundy to a subtle tint of purple that could almost pass as prominent veins, didn't take to the PRP injections the way I wanted. It's also worth noting that PRP sometimes takes a few months to work its magic. I've seen this firsthand with both my vampire facial and vampire breast-lift. "There may be some redness and bruising right after, but after that it takes approximately two to three months to see improvement," Peredo says.
Bottom line: If you've tried every product the skin-care world has to offer, injecting PRP may help. Peredo recommends two to three sessions, two to four weeks apart, and says that it can take a couple of months to see improvements.
Each treatment will set you back roughly $1,000, so if you're wary of injections, having your blood drawn, or dropping cash on a treatment that may or may not work for you, you may want to start with microneedling to see if micro-injuries on your own skin can work the stretch mark-fading magic you're searching for.
By Rebecca Norris
This article first appeared in
Allure
.