Love Your Thighs with 5 Cellulite Solutions
Stefanie Lee | 18 Feb 2015
Rather than hide under a sarong, there are some technologies that can help treat your cottage cheese thighs and dimpled buttocks to get them looking smoother and firmer.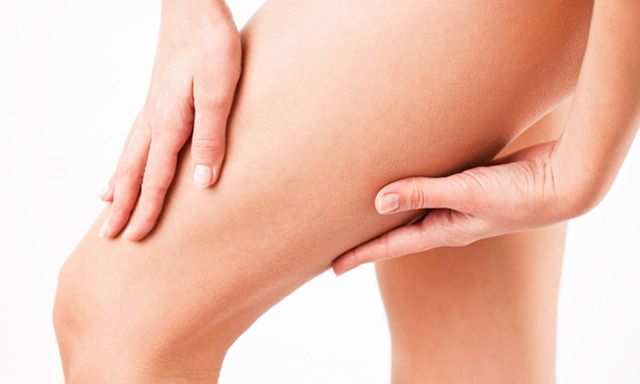 Credit: galleryhip.com
"Cellulite is an architectural pattern that is determined by gender," says Lisa M. Donofrio, New Haven, CT dermatologist. "If you're a woman, chances are you will have some cellulite." Below the skin are fibrous tissues called septae. Men have septae that run parallel to the skin, which is why very few men are plagued with lumps and bumps, while women have septae that run perpendicular in the skin. "When the perpendicular fibers "tether," dimples form," says Donofrio. So if you have thinner skin, you will see more dimpling and rippling.
To date, the best longer-term weapons in the dimple wars are clinical treatments for contouring the buttocks, knees and thighs. "Most of the devices that are FDA cleared to treat cellulite work by a combination of tightening the skin, increasing collagen and either stretching or severing the septae," says Donofrio.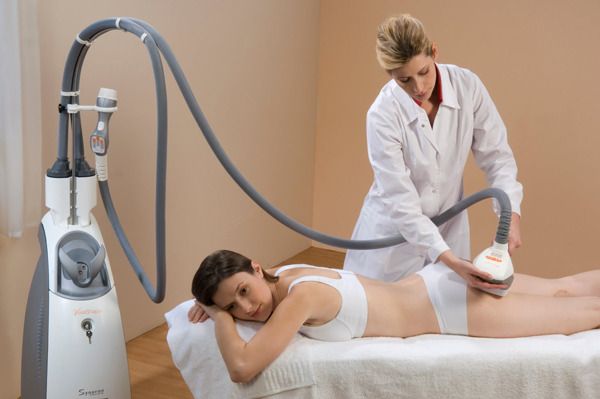 Credit: fiolaser.com.br
VelaShape® II (Syneron) uses a combination of bi-polar radiofrequency energy and infrared light energy, combined with vacuum suction and mechanical massage to temporarily shrink fat cells, stimulate collagen, smooth skin and improve circulation. New York City dermatologist Anne Chapas explains, "Most of our patients see good results after two or three treatments. It works best for people who have Class I and Class II cellulite, meaning that their cellulite is only visible when standing, but not when lying down." VelaShape II treatments typically take about 30 minutes and four to six treatments are recommended. Costs start from $150 to $300 per session.
Credit: medtel.com.au
PellefirmTM (Ellman International) is a comfortable radiofrequency treatment for the body that delivers firmer skin and improvement in the appearance of cellulite. Powered by the Pellevé® S5 RF Generator, the large diameter handpieces heat the tissue coupled with mechanical massage heads for treating dimples. A series of three or four sessions is recommended. "Pellefirm is a safe and effective option for patients seeking non-surgical body improvement. It delivers visible results with no pain or downtime," says plastic surgeon Kimberly Short in Indianapolis, IN. Costs start at $500 and up per session.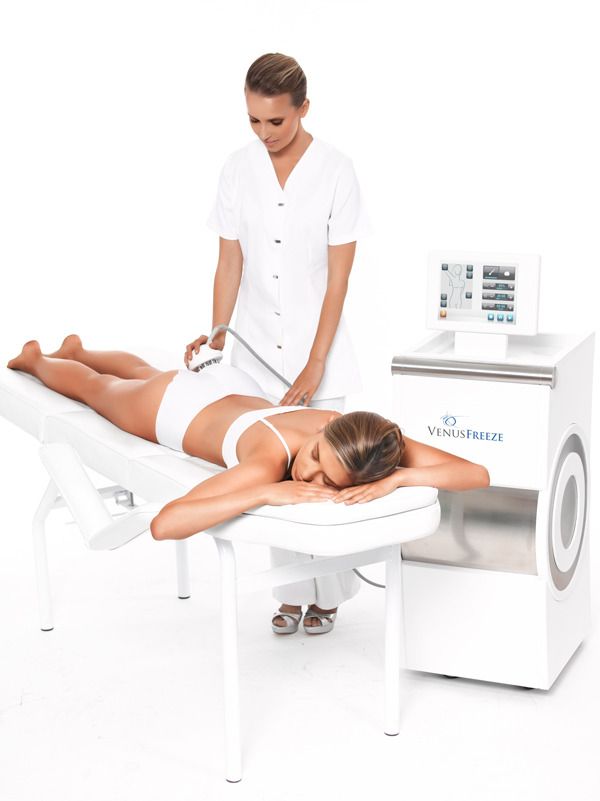 Credit: drmercedesattarpon.com
Venus Freeze® (Venus Concept) improves cellulite and skin tone and tightens using pulsed magnetic fields that provides the added benefits of increased circulation to the skin. Bonnie Marting, ARNP, Anushka Cosmedical Centre, West Palm Beach, FL, explains, "Venus Freeze treatments are painless, and treatments take about 30 minutes depending on the area. A series of six to ten treatments works best for the body." Costs start at $1,200 for a series.
Cellulaze® (Cynosure) works by threading a laser fiber through a small tube or cannula, which is inserted under the skin to cut the septae bundles, melt fat and stimulate elastin and collagen growth. The procedure can take several hours and bruising and oozing can occur from the tiny incision sites. "Cellulaze has been clinically proven to thicken and smooth the skin's surface. You can see results in two weeks after a single treatment, and the effects can be long lasting," says Boca Raton, FL plastic surgeon Jason Pozner. Costs range from $3,000 up to $10,000 for multiple areas.
CellFina® (Ulthera) is a precision microblade system that targets the fibrous septae. It uses an innovative vacuum-assisted approach to release the restricting septae which improves the appearance of cellulite and gives a smoother look to the skin. Expect to see CellFina® available at plastic surgeons' and dermatologists' offices in the near future.
Unfortunately, no over-the-counter product can diminish cellulite for good, but they may help temporarily smooth and tighten skin with ingredients such as caffeine, which shrinks fat cells, and retinol, which helps to thicken skin. Try the new advanced ZO® Skin Health Oraser® Body Emulsion Plus ($95), a multi-tasking body treatment that helps improve skin quality, tone and texture.
Source: HealthNewsDigest.com
Our Panel of Doctor's Services

Dr. Dylan Chau, Celevenus Aesthetic & Wellness Clinic
ePrime, $3,900
The ePRIME System is a minimally invasive radiofrequency (RF) aesthetic device designed for tightening aging skin.
Thermage, from $2200 to $6000
Thermage uses RF technology to tighten & stimulate skin renewal process which help to form new collagen.
391B Orchard Road #16-03/04 Ngee Ann City Tower B, Singapore 238874

Dr Ivan Tan, Nu.Reflections Medical Aesthetics
E-Plus Sublime Facelift, from $850 onwards
The E-Plus Sublime Facelift uses a unique combination of bipolar radiofrequency and infrared light for skin tightening and overall lifting.
NR Total Rejuvenation, from $600 onwards
The NR Total Rejuvenation uses a synergistic combination of IPL and Laser energies to achieve and overall rejuvenation in the the skin quality, tone and texture.
Needle-less EnerJet Facelift, from $1,500 onwards
This latest favourite treatment in Korea uses a revolutionary pneumatic needle-less sytem. Hyaluronic acid is delivered to the sub-dermal layer of the skin to produce an immediately visible and long lasting face lift.
EnerJet Acne Scarring Removal, from $1,500 onwards
An effective treatment targetted at stubborn acne scars with the revolutionary pneumatic needle-less sytem.
123 Penang Road, Office tower #05-12 Regency House (next to old Cockpit Hotel), Singapore 238465