New Statistics Show This Collagen-Boosting Procedure Is Majorly Trending
Aesthetics Hub | 27 Mar 2019
According to new data released by the American Society of Plastic Surgeons (ASPS), the stigma that once surrounded plastic surgery continues to fade—and fast.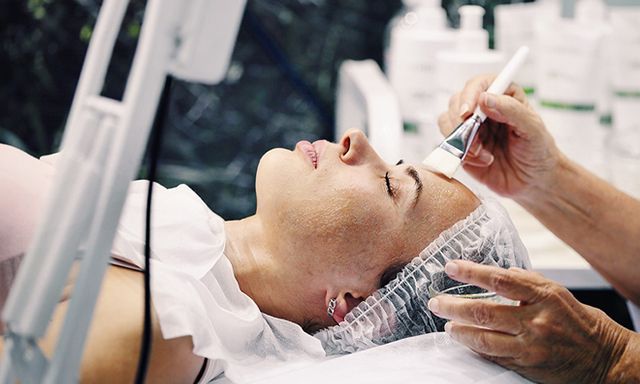 Photo Credits: Natalia Solovii / EyeEm/ Getty Images | Image Used for Illustrative Purposes Only
The report reveals that close to a quarter million more cosmetic procedures were performed in 2018 than the previous year, and a shocking 17.7 million surgical and minimally-invasive cosmetic procedures were performed in the U.S. in 2018 alone. What stands out in the sea of numbers: an uptick in noninvasive procedures both on and off the face, a rise in body-shaping treatments, and a significant surge in two collagen-boosting, minimally-invasive procedures that rely on the body's natural regenerating factors: Platelet-Rich Plasma (PRP) and fat transfer to the face.
However, the popularity surrounding these two treatments aren't taking plastic surgeons by surprise. "Both PRP and fat grafting to the face are on the rise because they are injectables—they're easy and can be done without general anesthesia," says New York plastic surgeon Stafford Broumand, MD. PRP, aka the "vampire facial," has been dubbed a celebrity-favourite when it comes to nonsurgical avenues, but the treatment's 12-percent rise since last year proves it's not reserved for A-listers anymore. The results are undeniable—Dr. Broumand says the treatment is a surefire way to make the face look fuller and more refreshed—but it's important to note it's not a permanent fix.
For those seeking injectable results that stick around, fat transfer into the face saw an even bigger spike at 16 percent. Here's the basics: Fat is harvested from your own body—usually from "donor areas" that are naturally fattier, such as the buttocks, via microliposuction—and re-injected into the face to enhance facial fullness or fill hollows without risk of rejection or allergic reaction. Popular areas include under the eyes, smile lines, creases between the brows, cheeks, temples, jawline and above the brows. The treatment requires some downtime and swelling is typical, but surgeons agree the natural-looking results that follow are well worth the trade-off.
As with any and all procedures, visiting a board-certified plastic surgeon or dermatologist is critical to ensuring an ideal outcome.
By Danielle Fontana , Digital Editor
This article first appeared in NewBeauty.
Our Panel of Doctor's Services

Dr. Terence Tan, Halley Medical Aesthetics
Anti-aging Programme 1
It is Halley's crème -de-la-crème of anti-aging treatment, which combines a full-face Ultherapy treatment with a glycolic acid peel and topped with a pampering Halley's Signature Facial (Rejuvenation/Fim It Up) to give you firm, smooth skin.
Anti-aging Programme 2
This effective yet affordable anti-aging treatment addresses sagging skin and provides skin renewal by combining a long-pulsed laser rejuvenation treatment, pigment laser, glycolic acid peel with a pampering Halley's Signature Facial (Rejuvenation/Firm It Up).
277 Orchard Road, #03-15 Orchard Gateway, Singapore 238858