Oscars Liposuction: 'I Could Give You Angelina Jolie Arms'
Aesthetics Hub | 21 Mar 2013
"I would get about a quarter of a gallon of fat out of you," Dr. Aaron Rollins says to me while pinching my arm fat in his Beverly Hills office.


The man in front of me — the answer to Hollywood's greatest body-image issues — looks like an extra-tall Ken Doll and says this with jaunty enthusiasm. He's the founder of Elite Body Sculpting, the provider of new-age liposuction for the stars, but he explains his job more simply: "I only do one thing. All I do is take people's fat, but I call it body sculpting."
Most celebrities spend a good deal of time maintaining their bodies through rigorous workouts and diet plans, but Rollins says that stars often discover that they have to be in front of a camera at a moment's notice and often feel like they need something their trainer can't give them. "People have to be naked, or in a swimsuit for a shoot, or get into a dress for Cannes, and they try on their dress with their stylist and their love handles are poking out," he says. "What's really good for my business is Hervé Léger dresses, because they really leave nothing to the imagination."
Sitting in his office, trying to hide all signs of my own love handles (bandage dress not included), I ask him, "If I came to you right now and asked you to get me Oscar-ready, what would you do?"
"Do you really want to know the answer?" he replies.
I do. And I start by telling him that my arms are my problem area.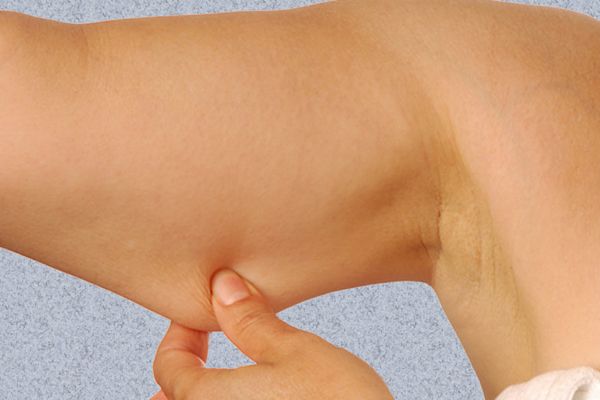 "My motto is 'If I can pinch it, I can take it,'" he says, grabbing my bicep. "Oh, this is juicy. Pinch this. I could take this much and have you wearing a sleeveless dress by the Oscars."
Together we pinch my arm fat. "Your arms are great for this," he explains.
His tone is like a proud father right after he's discovered his son has a natural ability to swing a baseball bat. He wants you to appreciate how cool this is. "Your arms are a home run. So is your chin, in my opinion," he goes on, now pinching the fat that I never knew existed above my neck. I could feel my face burning. "It would take an hour."
As I cover my arm fat back up, Dr. Rollins tells me the whole thing is really no big deal. "This technique and this technology is so minimally invasive that I can take [the patient's] fat without hurting them, with minimal damage and almost no bruising at all," he says. "There's no scalpel, it's basically a pinprick, and I have patients that look good in 48 hours."

Read more

Source: Nymag