Sharp Rise in Seeking the Trendy South Korean 'Idol' Look
Stefanie Lee | 22 Jul 2015
The increasing popularity in China of South Korean TV dramas and music is resulting, say experts, in a spectacular rise in the number of Chinese traveling to their neighbouring country to have plastic surgery.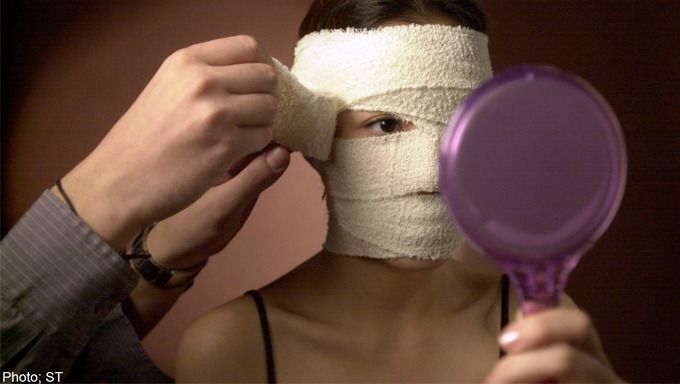 Credit: AsiaOne YourHealth
According to the latest figures from the Chinese Association of Plastics and Aesthetics, some 56,000 Chinese people travelled there last year to go under the knife for cosmetic reasons-a considerable rise on the 16,000 who travelled the year before, say South Korean health ministry numbers.
The burgeoning medical tourism industry is centred on the southern Seoul district of Gangnam, a high-profile neighborhood packed with luxury shops and a growing list of plastic surgeons.
The South Korean government now says it expects the sector to attract a million cosmetic tourists a year by 2020, with Chinese travelers representing the largest segment.
Although the price of surgical procedures in South Korea is generally more expensive than in China, experts suggest the strong reputation of doctors there has convinced people to make the trip for a nip and a tuck.
But the destination has also grown in popularity, they say, because more Chinese have become obsessed with copying the look of their entertainment industry idols.
Chinese travel agents have even joined in the frenzy by offering plastic surgery-based packages, which also include several days of sightseeing in the price.
Credit: Soompi
One agent said that it is not uncommon now to see Chinese females wandering the flashy streets of Gangnam with post-surgery bandages over their faces, as they shop.
The most popular procedures by tourists are said to be double-eyelid surgeries, which help them gain Caucasian-style eyes, and nose jobs to obtain more prominent nose bridges.
But more extreme procedures also include facial contouring, to achieve an oval shape through shaving or chopping away bones.
Credit: TL Plastic Surgery
"The cost of a double-eyelid surgery is between 8,000 and 10,000 yuan (S$1,700 - S$2,100) ," explained a representative from the travel agency verym.com.
The agency has already partnered with several well-known South Korean clinics to offers special promotions during Chinese holidays, with the Lunar New Year now becoming the busiest time of the year.
Speaking on condition of anonymity, one young Chinese professional in her 30s told China Daily she had decided to travel to South Korea with two of her closest friends to undergo the double-eyelid procedures, along with some skin treatments.
"For us, it was like any other regular trip," she said, almost too casually. "We went sightseeing, we did lots of shopping and enjoyed eating out.
"The only difference is that we came back looking better."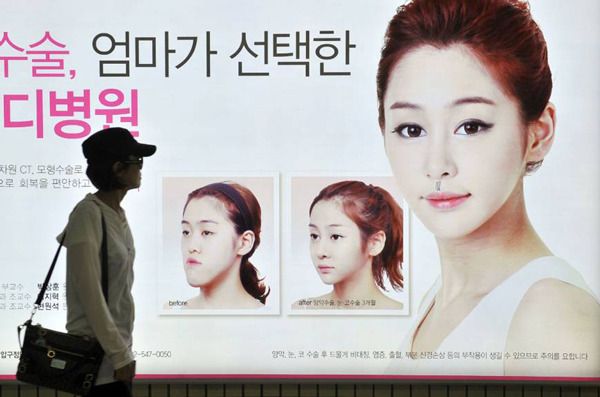 Credit: The Nanfang
Not every cosmetic tourist trip, however, works out as well.
According to figures from CAPA, the number of reported cases of surgeries involving Chinese nationals going wrong in South Korea is also worryingly on the rise, growing about 10-15 per cent last year, according to some estimates.
The South Korean government has already announced a crackdown on illegal brokers and unregistered clinics in response to a rising number of complaints.
Last year, officials launched an online registration service, available in Chinese, Japanese and English, offering potential patients a list of vetted hospitals considered as providing reliable beauty surgery, said Oki Kang, Korea Tourism Organisation's executive director.
"We are trying to create a reliable marketplace for hospitals and patients," said Kang.
"By giving more precise information on registered hospitals, the government has tried to minimise the risks of patients being cheated by illegal agents or brokers."
For those unwilling to travel abroad but still interested in employing a South Korean surgeon, meanwhile, clinics have also started opening in China, staffed by professionals from South Korea.
Read more at AsiaOne.
Our Panel of Doctor's Services

Dr. Terence Tan, Halley Medical Aesthetics
Botox® (jaw shaping)
Refresh and smoothen your wrinkles with our no downtime facial rejuvenation treatments.
Dysport® (jaw shaping)
Refresh and smoothen your wrinkles with our no downtime facial rejuvenation treatments.
277 Orchard Road, #03-15 Orchard Gateway, Singapore 238858