The Non-Surgical Nose Job
Aesthetics Hub | 20 Mar 2013
Fashion bloggers and beauty fans are turning to nose inserts for a new, non-surgical way to change the shape of their nostrils. A new trend is brewing quietly on the internet, as beauty fans seek out a cheap and non-permanent way to change the shape of their nose.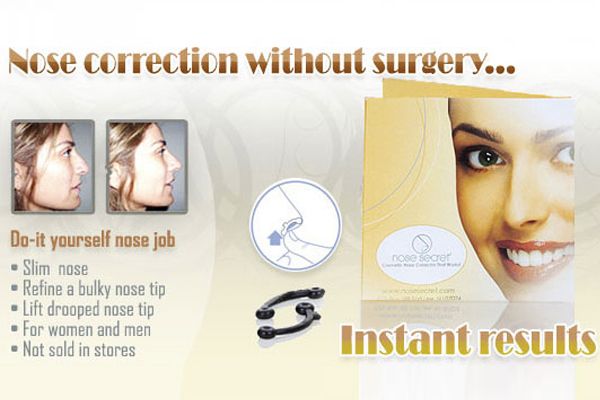 New Jersey-based company Nose Secret is calling its product nose correction without surgery. Two plastic inserts are placed inside the nostrils to stretch out and reshape the angle of the nose.

UAE-based beauty writer Aida Al Barwani tried out the device for The Beauty Hub and described the effects: "it doesn't make your nose smaller, or thinner, it simply elongates it to create a cuter profile."
The nose inserts come in different sizes, depending on the existing size of your schnoz, and are removed with a plastic hook. "I can't laugh too hard or eat with it in because it feels like it's going to slip out," she added.


Famous YouTube beauty blogger Michelle Phan has also used the inserts (which retail at $34.95 in a kit) as part of her Zombie Barbie look, "I'm inserting nose enhancers inside my nostrils to push out my nose and make my nose more pointy" she says in the video.
Beauty video blogger My Invisible Chyrsalis tried the product too, and described how it made her nose a lot pointier: the tip is more bulbous."She doesn't advise wearing them all day though: "I don't know about it ever being comfortable," she adds.
There are a number of options for non-surgical nose jobs. For nearly a decade, cosmetic surgeons have been using fillers to bulk out bulbous noses. Dr. Alexander Rivkin of UCLA was one of the pioneers of the technique he calls injection rhinoplasty, in which he inserts injectable fillers around natural bumps on the nose in order to create a straighter profile. Rivkin even performed the technique, which has been called the 15-minute nose job, on NBC's Today Show.


Source:
Hindustantimes