Top Weight Loss Stories Of 2013: Beyonce, Christina Aguilera, Kim Kardashian And More Show Off Slimmer Figures
Bianca Zen | 11 Jun 2014
Losing weight is never easy for any one, but it certainly is much harder when people are watching your every move and constantly criticizing your figure.
But 2013 was clearly the year of shrinking female celebrities, as numerous stars, some who even gave birth recently, dropped the pounds and showed off their healthy and impressive physiques. Kim Kardashian and Christina Aguilera are amongst the big names who accredited their amazing weight loss to a healthier lifestyle. Let's take a look at the biggest weight loss stories of the year.
Christina Aguilera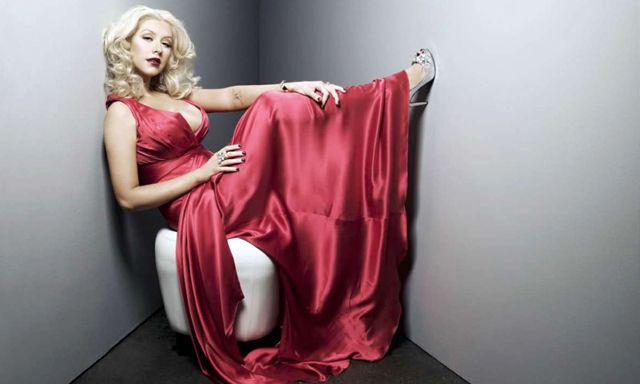 Christina Aguilera certainly had a much fuller figure last year, but has shown that she is back and sexier than ever as she gets ready for 2014. Aguilera, 32, divorced ex-husband Jordan Bratman in October 2010, and noticeably gained weight afterwards. Last year, Aguilera was very vocal about her appreciation of her new figure, after her weight gain caused negative media criticism.
When asked by Parade magazine if she pays attention to negative comments about her body, Aguilera replied, "To me it's all noise, and I block it out as much as I can. I like my body when I have curves. We all come in different shapes and sizes, and that is something to celebrate." But this March, she began showing off a slimmer body, clearly sticking to a healthier diet and exercise routine. By September, she reportedly lost 49 pounds. While she has been working with a personal trainer, Life & Style reports that she now adheres to a strict diet, which includes limiting her alcohol intake. Also, according to the article, she has a balanced meal plan.
Aguilera starts her day with healthy fats and protein such as an avocado, blueberries and turkey bacon. For lunch, she eats chicken breast and a salad filled with bacon. (Chicken breasts are widely viewed as a great source of lean, low-fat protein.) And instead of picking up unhealthy snacks, the singer relies on shrimp cocktails and celery with almond butter.
Kim Kardashian
Kim Kardashian gave birth to North in June, but already has her body back. The Atkins diet has apparently worked wonders for the reality star, who has praised the meal plans the diet recommends. She lost 56 pounds following the low-carbohydrate meal plan. Carbs are drastically reduced, and dieters consume more protein and fat than they would from a normal diet. The body then uses fat as fuel, causing rapid weight loss.
"What distinguishes the Atkins diet is the absence of a lot of carbohydrates, so that leaves out a lot of choices," "The Great Cholesterol Myth" author Jonny Bowden told E! News recently. "You can make bad choice and good choices, but there's nothing dangerous about the Atkins diet. There really isn't a downside to it." During a recent appearance on "The Tonight Show With Jay Leno," Kardashian admitted that getting rid of the extra pounds after the birth of her daughter was the "greatest challenge" of her life.
Beyonce
Beyoncé showed off her post-baby body this year, after giving birth to Blue Ivy last January. The 31-year-old megastar opens up about how she shed the 57 pounds she gained while pregnant.
"I didn't have a lot of time to lose the weight, because I scheduled a show three months after I gave birth, which I would never do again," Beyoncé says in a video for Shape magazine. I'm not a person that is naturally very thin. I am a person that has to work at keeping my body in shape," she adds.
A strict diet and exercise regimen is key. Shape Editor-at-Large Bahar Takhtehchian said in May that Beyoncé combined cardio, lunges, and a diet full of veggies and lean meat to lose the baby weight.
Dancing also helps Beyoncé keep the weight off; she's known for her elaborate performances at concerts.
In February, Beyonce's personal trainer, Marco Borges, spoke to Life & Style magazine about how he helped whip the mom in shape. Borges said he put her on a partially vegan diet, with "one vegan meal a day, because this typically gets people to eat more greens than they normally would."
He added, "Consistency is the key to success. I love running-sprint intervals for quick cardio sessions and also ... running stairs."
Although Beyoncé's weight loss is impressive, she says it isn't necessary to be stressed if you aren't the exact size as the women in the media.
"Not everyone is supposed to be the same. Be healthy and take care of yourself, but be happy with the beautiful things that make you, you."
Britney Spears
Britney Spears has been in fighting form this year, and looks as great as she did during her "Baby One More Time" days back in 1999 thanks to a new diet and exercise regime. The mother of two has lost a significant amount of weight in recent years, and her weight has been up and down throughout her career.
Fourteen years after the start of her career, Spears admits that keeping her body slim and trim is not as easy as when she was a teenager. "Dieting is tough," she admits, "because my specialties are spaghetti, brownies and chocolate chip cookies. I try not to make those too often or I'll eat the whole bowl of dough."
Spears follows the Nutrisystem weight loss program, where meals consist of a shake for breakfast and lunch plus a dinner of protein and vegetables, in order to stay healthy.
The singer is also maintaining an intense exercise regimen and recenetly began two-year stint performing at Planet Hollywood in Las Vegas, which certainly keeps her fit.
"I'm doing 90 minutes of yoga twice a week in addition to a lot of cardio — hourlong sessions three times a week with my trainer, Tony Martinez," Spears said early this year in Shape magazine. "The [Vegas] performances won't be simple — they'll be a massive party from start to finish, and to pull this off, I have to be in top condition and running at full speed."
Mariah Carey
After giving birth in 2011 to twins, Mariah Carey left the spotlight for a bit while she whipped her body back into shape. By January of this year, she came back just as hot as before, showing off her post-baby body whenever she had the opportunity.
The singer last year said on the Rosie O'Donnell talk show, "In the beginning, when I first had babies, I had so much edema … water and swelling. Most pregnant women have that just in their feet. One day I was doing my thank-you notes and I noticed it started rising up the leg, so I had edema … I didn't think I would ever be the same person."
Eventually, Carey did lose the extra pounds through the Jenny Craig weight-loss program. She is now the Grand Ambassador of the company. "The first week, I lost 40 pounds … of just water," she told O'Donnell. "When I started with the program, I lost at least 30 pounds of weight that needed to be lost."
Carey added, "I would tend to go, 'Does this size dress fit me that I wore three years ago? I'm good, let's go.' I would go by what it looked like, how I felt."